The New & Improved Managed WordPress
With the increasing influence of site performance on search ranking, fast page loads are more important than ever.
This presents WordPress users with a conundrum: The platform conveniently handles just about any kind of website, but that also makes it resource intensive.
Speed versus ease.
A tough choice.
But does it have to be a choice?
Checking off both sides for your next WordPress project, we've launched a new and improved version of our Managed WordPress hosting solution.
The new Managed WordPress boasts tweaks across the experience, all aimed at decreasing load times and streamlining the experience.
Highlights of the New Managed WordPress
I won't try  to cover all the details in this post, but I want to cover the key points that'll help you make your next hosting decision. Check out the site for more info. And definitely reach out anytime via site chat about specifics for your projects. (The team is awesome, I promise.)
Hosting Plans for Multiple Sites
Out of the gate, you'll notice a new set of plans.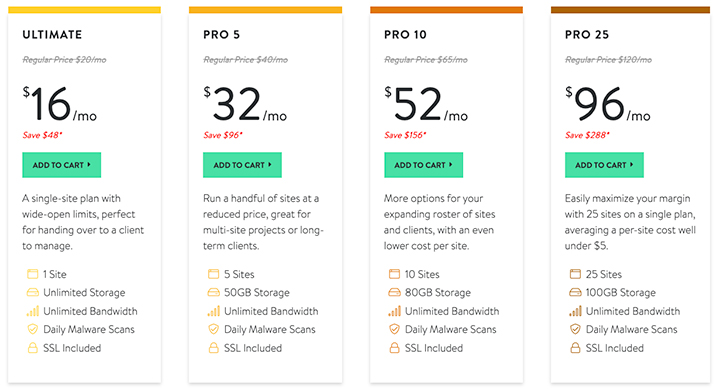 Ultimate is our single-site plan. And obviously if you only have one site, pick this one. But it's also a terrific option if you're handing a site – and its hosting – over to a client. Unlimited bandwidth, unlimited storage, the whole package: You and your clients get a completely worry-free setup.
Pro plans provide you multiple site installs. The big advantage here? Your per-site cost drops dramatically. Consider this: The Pro 25 plan ends up being under $5 a month for each site. So, if you're handling the hosting for your clients, you're going to boost your margin quite a bit.
There's a ceiling to the storage amount on these plans, but you're still looking at a limit well beyond pretty much any site's actual usage.
If you're a tinkerer just doing your own thing, a Pro plan keeps slots open for experimental projects – again, without hitting your budget with single-site pricing.
Easy Always-Included Features
You'll also find a feature set that simplifies the whole WordPress process and covers all the essentials of hosting WordPress in this era. Every WordPress install on every plan gets the same allotment, making this really consistent for your clients' experience:
Staging – Test big new themes and wild new plugins without having to push into production.
Malware scans – Daily scans determine if a site has been exposed to these common hack threats.
Backups – No worries if some odd glitch or update tanks a site. You get daily backups up to 30 days back.
SEO – Yoast has become an essential plugin, advising on search optimization. We'll save you time with automatic installation.
SSL – Another must-have for search ranking (and security!), each site gets assigned an SSL certificate.
Developer access – Even if you don't dig in all that often, we know that you want the option to pop the hood and get technical. With Git version control, SSH/SFTP, phpMyAdmin access, and more, you've got that ability.
Snap-Fast Performance
A lot factors into load times, but you have plenty in place to ensure visitors get the picture quick.
Behind the scenes, load balancing distributes requests across high-performance servers in secure data centers.
Common WordPress performance detractors also receive a big boost with the inclusion of Varnish cache and a content-delivery network for each site. Both features minimize a visitor's reliance on the database itself, which gets them a quicker load even when traffic is heavy.
Our teams continually work to optimize the platform's performance, too. It's already very fast, and we expect that to only improve over time.
And Don't Forget Support
When it comes down to it, Media Temple's signature support is what our reputation is built on.
Every single plan on every single hosting solution includes access to our team of experts via phone, chat, or support ticket – around the clock.
Managed WordPress is no different: We're here when you need us.
And when you do need us, we'll leverage our collective experience hosting over a million sites to help you. Whatever your skill level, we strive to make critical moments in your site's life as anxiety-free as possible.
Get Started with Managed WordPress
With a special introductory offer in place, now's a great time to give the new and improved platform a spin.