Introducing Media Temple's New VPS Hosting
Today, we introduce our newest VPS hosting platform.
With the new plans, you'll find more ways to boost the performance of your sites. And your budget will go further in achieving high levels of speed and stability. Read on to learn how.
For Sites That Crave Attention
Site performance matters more than ever.
In the competition for attention, visitors have high expectations for the sites you build. Search engines do, too. And the bar always seems to be rising.
That's renewing interest in the workhorse of web hosting: VPS.
Virtual private servers achieve performance levels that can be tricky for popular shared hosting platforms. Don't get us wrong: We love shared hosting. But VPS hosting gives some key advantages:
Stability – VPS dedicates resources solely to your sites
Speed – VPS can be configured with high levels of compute power
Control – VPS provides wide flexibility in how you build and optimize for the web
When a client's business depends on its site to succeed, VPS consistently delivers.
So with Media Temple's newest VPS platform, we're aiming to get these professional-grade hosting solutions in the hands of more site creators and owners.
Lower Costs – More for Your Budget
The big flashy point: Plans for our VPS hosting now start at $10 per month.
While you'll likely want to increase the resource allocation and add Plesk or cPanel interfaces to your plan, this sets a great starting point for projects. Experiment with a new idea or stage a client project: You can always scale up.
Most importantly, the low price of this base plan extends savings across all the options. For example: At the same price of our previous platform's base plan, you get twice as much RAM, three times the storage, plus unmetered bandwidth.
Any investment in upgrading goes a long way, too. Upper tier plans are just a fraction of the prices they were previously.
Add more resources or professional server management: Your budget now gets you a whole lot more out of your web server.
Let's dig a little deeper into those options.
Choose Your VPS Hosting Resources
Four Core Levels – Covering a Wide Range of Sites
The new VPS plan levels are based on virtual CPU allocation (or vCPU).
This represents the central processing power of your server. Think of it as the brain. As your CPU level rises, so does your server's ability to handle complex sites and apps. While static sites likely won't see a huge difference with more CPU, dynamic sites using content management systems like WordPress will benefit from galaxy-brain power.
With this more transparent CPU-based tiering, you should be able to make a smarter choice on the best VPS hosting plan for your projects.
It also allows us to offer memory upgrades separate from the bigger jumps found with CPU upgrades.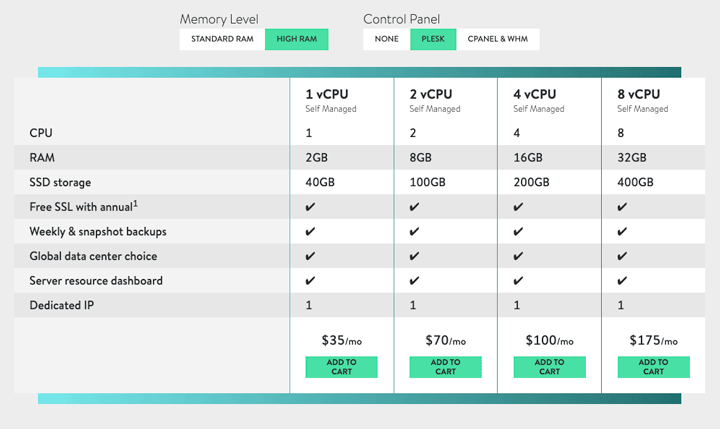 High RAM – An Easy Speed Boost
We've helped manage thousands and thousands of sites over our history. And we consistently see that memory gives a boost to performance for static and dynamic sites alike.
So each VPS plan now offers a High RAM upgrade option, doubling server memory at a smaller cost than a full plan upgrade.
If you want a quick-and-easy performance edge, High RAM should be a no brainer.
Tip: If you want a control panel interface, your lowest cost option will be 1 vCPU with High RAM selected. (Plesk and cPanel need more memory to run smoothly than the standard 1 vCPU plan offers.) It's a solid value at $35 per month.
Choose Your VPS Server Management
Self Managed – Classic DIY Control
When you want to take care of all the details on your own, Self Managed VPS plans cover your needs. Start with a command line or one of the world's most powerful server control panels: Plesk or cPanel & WHM.
However you outfit your Self Managed VPS plan, it's the classic do-it-yourself hosting experience.
Fully Managed – Worry-Free Expertise
The performance of your web server goes well beyond raw resources. There are numerous opportunities to optimize and update a VPS over time to achieve snap-fast load times.
But here's where it gets dangerous to go alone. The configuration and maintenance of a web server quickly grows more technical, and a randomly mixed up setting can be a drag on your site performance.
We find many site owners and creators simply don't have the time or expertise to get the most out of VPS hosting. That's absolutely nothing to be embarrassed about: Your expertise is likely more valuable focused elsewhere.
Our expertise is exactly in this space, though. So we can leverage our experience hosting thousands of sites for you.
Fully Managed VPS plans include a whole lot of hands-on services from our Advanced Support team. From setup to maintenance, here's just a few of the things we'll do for you:
Site migration
WordPress setup
PHP and DNS configuration
Apache and NGINX configuration
Intrusion prevention
All the Fully Managed VPS services result in better site performance with less work on your part.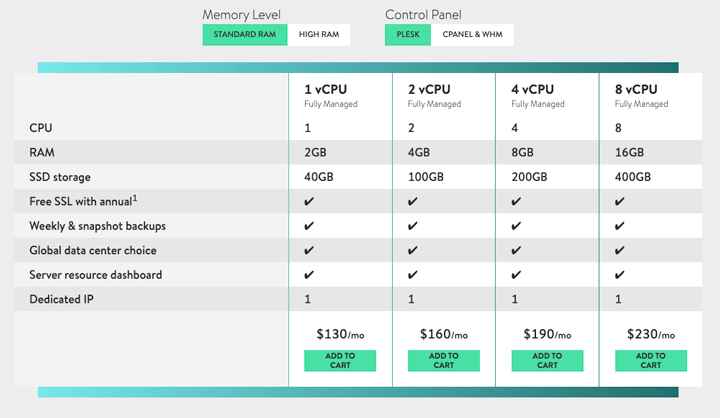 Tip: Fully Managed plans are a great option when you're handing a site over to a client. You reduce the number of requests you'll need to field, while improving the overall quality of your service package.

Signature Support with Every VPS Hosting Plan
As always, you can count on our team to keep your hosting service running.
Every plan includes our famed Media Temple support: A group of friendly hosting experts working 24/7/365 to ensure your hosting delivers.
And they're accessible to you via phone, chat, or support ticket – however you prefer, no premium charges for any form of access.
The Place to Build Your Great Ideas
The stability, speed, and control of VPS make it an ideal place to build a tremendous range of web experiences.
And that's especially true given the increasing need for sites to perform as great as they look.
With Media Temple powering your sites, we firmly believe you'll have an edge. So have a deeper look at the new options and lower costs available for your next project.