4 Signs It's Time to Upgrade a Client to VPS Hosting
When a business is new and there's little to no cash flow coming, business owners have to be budget-conscious. That's why it's not uncommon for websites to start on the cheapest hosting plan.
At some point down the line, however, that cost-effective shared hosting plan just isn't going to cut it. Can you trust your client to know when that time comes? Or should you intervene and help them upgrade?
Even if it's not technically part of your job description, you are their trusted website expert. If anyone is going to make a convincing case to upgrade from shared to VPS, it's going to be you.
Today, we'll take a look at 4 events that will let you know when it's time to have the talk with your clients about an upgrade.
When Is It Time to Upgrade a Client's Site to VPS Hosting?
There is absolutely nothing wrong with hosting a website on a shared plan. However, for some websites, it's just not practical or even very business-savvy to stay on a shared hosting plan for too long.
It's kind of like managing a company's six-figure earnings and growing expenses in an Excel spreadsheet instead of using accounting software that automates and optimizes the business's cash flow. It's going to hurt the business much more than the cost savings seemingly help it.
Anytime you need to convince a client to change the way they do things (especially if they have to spend more money on it), you need to frame it in terms of the benefits to them.
So, let's look at 4 occasions when VPS hosting is the next logical step and how you can persuade your clients to upgrade.
1. The Site Takes More Than 3 Seconds to Load No Matter What You Do
For years now, loading speeds have played a role in how well or poorly a website ranks. In 2010, loading speeds became a ranking factor for desktop sites. In 2018, speed started to impact mobile site rankings, too.
Google's getting even more serious about this. With the Core Web Vitals update, page speed is one of four categories that websites need to excel in to rank well.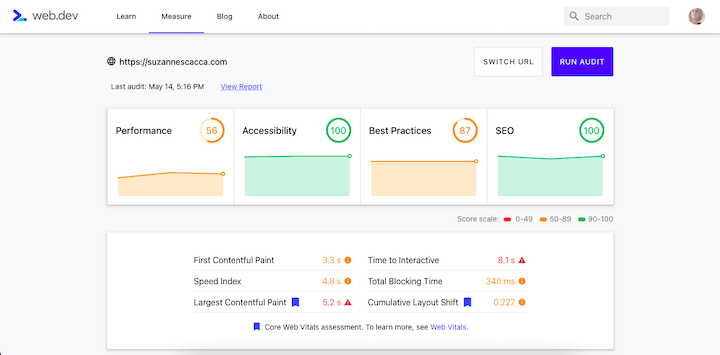 According to Google, you have up to 1 second before visitors lose focus and 3 seconds before they completely abandon what they're doing.
While shared hosting plans often include performance optimizations, it's nothing like what you get with VPS hosting. You get more resources as well as access to high-performance hardware.
So, if your client's site just won't load any quicker than 3 seconds no matter how much you optimize for speed, it's time for a hosting plan upgrade.
If the client drags their feet on this: 
Invite them to run their website through the Core Web Vitals tool.
Explain to them that if their Performance score isn't green (meaning a score of 90 or higher), then their website's ranking will be negatively impacted. You can use the press releases from Google in the links above to show them how serious this is.
Most of the business owners I've worked for are obsessed with ranking on the first page of Google, so the correlation between page speed and ranking is a solid argument to make in favor of VPS hosting.
2. You Can Only Take Your Client's Vision So Far
Innovation is the key to success in business. That's why it's exciting when you have a client who has a really daring and creative vision for their business and its website.
That said, shared hosting can easily turn that excitement into frustration when you realize you don't have the flexibility or freedom to execute on their vision or yours.
For instance, let's say you want to experiment with a new content-management system that uses PostgreSQL (like Contentful) versus MySQL (like WordPress). Or you simply need more cutting edge technology to do what you want.
In order to reduce the potential "noise" from neighbors on shared hosting, there's likely to be a ton of restrictions that keep you from adopting the tech or the approach you want. A private server, on the other hand, keeps those types of roadblocks out of your way.
If the client drags their feet on this: 
It's not always easy letting a client know that you can't do what they want because of technology limitations or restrictions. I've had too many conversations with clients who don't understand why it requires more money to innovate, as if you can somehow flip a switch and make it happen. RIGHT. NOW.
So, what I'd compare this to is the difference between renting an apartment or buying a home.
Explain to them that when you rent an apartment, you have very little control over what you do to the walls, flooring, fixtures, etc. You can furnish the place, of course, but there's little else you can alter.
When you buy a home, though, the world is your oyster. You can add an indoor pool to the backyard, make all your fixtures and appliances energy efficient, or start knocking down walls for a more spacious vibe.
This'll help them understand how an extra investment in VPS hosting will give them and you the freedom to implement their vision.
3. Too Much Downtime Is Costing Their Business Money
Some websites may never exhaust their shared hosting resources. There are others that will quickly approach and exceed those limits, though, like eCommerce sites, enterprise blogs, and news sites that publish a steady stream of content and graphics.
But a site's resource consumption isn't the only thing to be concerned with. It's how other sites on the server consume their shared resources.
With shared hosting, there's always a chance of downtime if your website neighbor takes more than their fair share of resources. And it's not always their fault. A blog post or promotional offer could go viral and the traffic surge could easily take all the sites offline that share space on the server.
With VPS hosting, this isn't a problem. All of the resources are split evenly and websites aren't allowed to exceed their individual private server's resources. So, the only website that can affect your performance or uptime is your own.
If the client drags their feet on this: 
Calculate the cost of downtime with them:
(Average Website Earnings Per Hour ✕ Number of Hours of Downtime) + Developer Fees to Get Back Online
If they recently experienced downtime, take the average amount of money they generate from the site every hour and multiply it by the number of hours the site was offline. If they haven't had any downtime, show them what the cost is for 3 hours of downtime versus 3 days of downtime. Don't forget about restoration fees.
When the website plays a critical role for a business, they won't want to risk losing that amount of money.
4. The Site Is Struggling to Adapt to Business Growth
You don't just launch a business and watch as it enters various phases of growth and evolution. There's a ton of work that goes into maintaining a business, innovating the offering, and adapting to external changes. As a result, companies experience ebbs and flows and plateaus.
While you want your client's site to be prepared for the high points, it's not always cost-efficient to set up the server for peak performance and leave it there.
With VPS hosting, you get root access to the server, which means you gain more control over the server environment. With the ability to customize server resources and configuration, you can truly optimize the way your website works.
You can also optimize how your client spends money on hosting, too. If your client owns more than one website, you can consolidate all of the sites on a single VPS.
Just keep in mind that, in order to make the most of VPS hosting, you should have server management experience and technical knowledge. (If you don't, keep reading to the bottom of this post.)
If the client drags their feet on this: 
There isn't a whole lot of data you can use to make this argument.
What you can do, however, is translate it into a use case that's relevant to your client. For instance, if your client is planning on running a sale in the week leading up to Black Friday, you can explain the benefits of scaling the server's resources for the anticipated increase in traffic during that time frame. In other words:
No Downtime = Capture More Sales
Then, show them how they'll save money by scaling back the resources after the sale ends.
You can also show them other ways that VPS hosting leads to cost savings. This Epicure Digital case study provides one such example.
Wrapping Up
The advantages of upgrading to VPS are clear. However, you might be the one dragging your feet at this point if you're not comfortable with managing a VPS server.
It's completely understandable. While it's awesome that you get more control over the technical backend and resulting performance of a website, you now have a lot more to manage. It's easy to bump the wrong lever or get stuck with a weird issue that plagues your client's site for months or years down the road if you don't know how to fix it.
So, you have a couple of options.
If you want to manage this hosting plan for your client, get yourself a control panel like cPanel or Plesk and avoid the command line altogether.
If you'd prefer not to, simply move your client towards a fully managed VPS hosting plan instead. You can handle the basic oversight, then get hands-on support from your expert web host who knows exactly what they're doing and can translate your needs into server optimizations.
Regardless of which option you choose, Media Temple has a VPS hosting with control panel solution that'll help you and your clients make the transition to VPS.