The 10 Best UX e-Books (for Free!)
From web design to prototyping and typography, e-Books are an amazing treasure trove of information. Here's a list of the 10 best e-Books that teach UX design. The best part? They're all free.
1. UX Design Process Best Practices- UXPin

UX Design Process Best Practices is a complete, all-encompassing guide on UX design, running through the design process step by step with explanations of the best documentation, why they're useful, and how to create them. Created by our collaborative design platform, think of this book as a reference guide on the complete design process – useful if you ever find yourself stuck.

UX design techniques advance seemingly overnight, so the development E-book publisher O'Reilly Media venture to the front end to help keep designers up-to-date. The New Design Fundamentals explores current UX techniques through a collection of chapters from their other published works on similar topics.

Designing a Brilliant User Experience Through Color, Font, and Icons takes a focused approach by discussing only techniques using the three areas in the title. With in-depth examinations of each of the three main topics, this guidebook is that deep dive you've been craving.

If UX books are generally too dry for your tastes, David Travis' The Fable of the User-Centered Designer has a cute twist: Lessons are framed as fairy tales about a mythical user-centered designer who reveals the three major secrets to solid UX design. These three secrets, by the way, are genuinely effective, and this E-book explains their applications in a human yet entertaining way.

Web Design Trends 2016 illustrates techniques through 166 screenshots of big-name sites like Diesel, Intercom, Reebok, and more. This guide covers 10 popular design choices of the moment, with theory and best practices. The 2016 edition discusses trends like the card layout, the new flat design, minimalism, HD visuals, microinteractions, and more, with external links to 100 additional free resources.

In the same vein as the above E-book, UX Design Trends 2016 dives into the details of six cutting-edge UX trends (such as personalization and reinventing gamification) the right way. It covers otherwise difficult concepts into a clear-cut and easy-to-understand method, utilizing custom images and 71 screenshots from popular sites.

According to author James Kelway, UX design is comprised of six main areas, or circles. Six Circles: An Experience Design Framework goes through each, dissecting popular UX tactics like immersion, Hick's Law, and affordances along the way.

Master typographer and UX designer Mark Boulton gives his personal advice on the artistic side of UX design. The 24 chapters are divided into sections on Typography, Research & Ideas, Color, and Layout. The whole book is readable online, making this E-book an obvious browsing destination.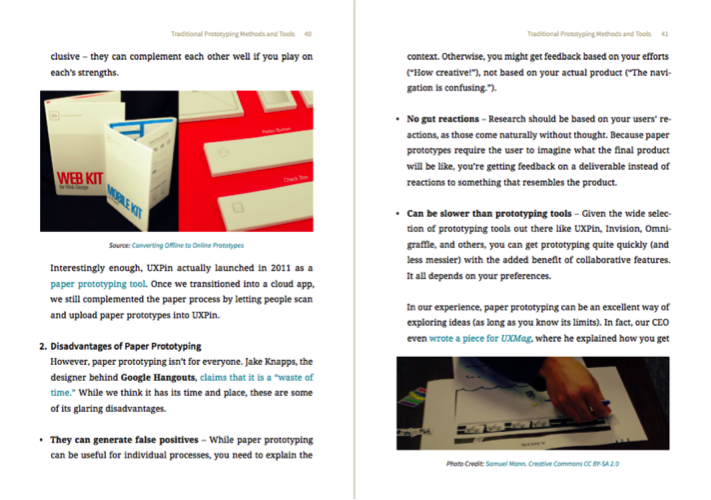 The Ultimate Guide to Prototyping breaks down everything about… prototypes. This includes how to make and test prototypes alongside introducing a variety of types and processes that could work hopefully for you. Prototyping is a deep topic of its own, so this 100+ page guide is a great starting point so you can make the best decision for your latest project.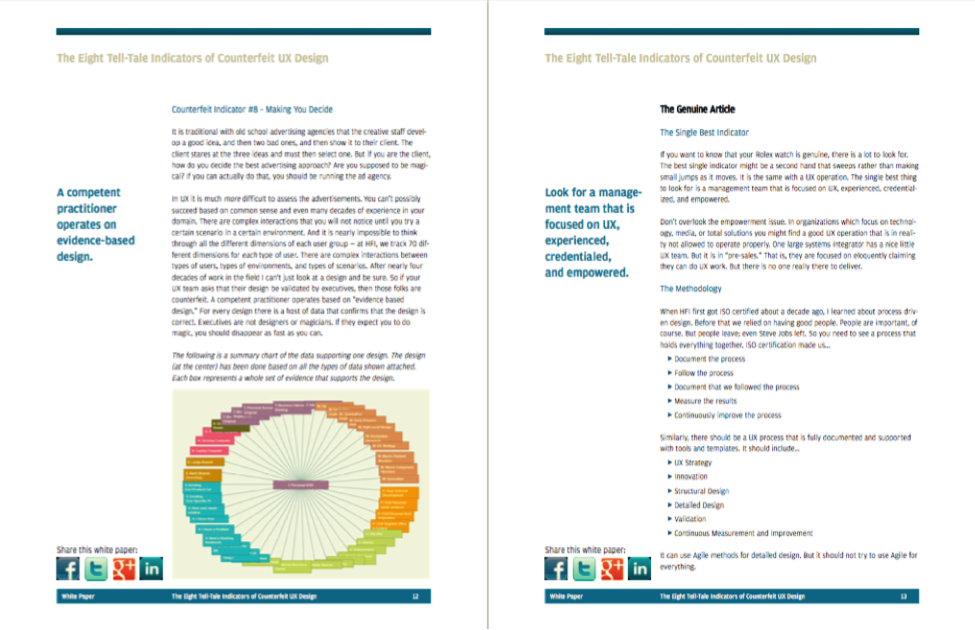 Dr. Eric Schaffer, CEO and founder of Human Factors International, created this to make it easy for UX professionals and hiring managers to separate authentic UX design from the growing number of UX imposters. His observations on bad UX actually double as tips and advice for UX practitioners. So if you make the same mistake twice, shame on you.