Lessons Learned Running an Online Side Business Pt. 2
In the first post in this series, Keir Whitaker puts the modern entrepreneurial market into perspective exploring options and tools for creatives to start and run side businesses. This in depth examination continues in the second installment touching on marketing, customer service and outsourcing for your side business.
Marketing is not a Dirty Word
Producing your goods is one half of the battle. The other half is marketing. Neither Elliot or myself are trained in any form of marketing — at least not any traditional forms. That said we have had some successes.
One thing I think we did that worked particularly well was to start a newsletter list the moment we set up the first Viewport Industries web site. Building a list of people who have given you permission to market to them is vital. We have used MailChimp from day one and as I am sure you all know they make it very easy to get started. In fact if you have fewer than 2,000 subscribers, you can send up to 12,000 emails per month absolutely free.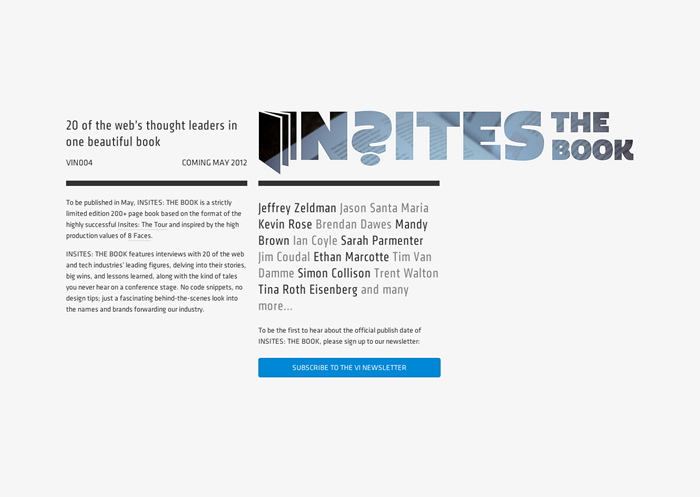 Our very first web site included a link to our newsletter sign up from from every section
Along with occasional mentions on Twitter, contributing articles to magazines and blogs which subtly made reference to our projects, sharing designs during presentations and generally telling friends about how great it would be (you have to have faith in your product) resulted in a sizeable list to announce further details to a month or two prior to launch of our first major product.
Customers not Clients
Getting your product to market is really just the start of the fun. Whilst your day job might involve dealing with demanding clients the pressure if often offset by the financial rewards of the project. The reality is that customers can be just as demanding but without the large financial reward!
Customer service is a vital part of your business and it's something worth thinking about before your launch your product. Here are a few things we did that might also work for you:
Set up a dedicated email address that we all have access to
Decided to use HelpScout, a dedicated online support tool, which allows us to send auto responders and assign specific requests to different people. Currently we are able to use the free plan.
Ultimately outsourced our customer service (more on this shortly)
Agreed to be as helpful as possible regardless of the situation!
Outsource where Appropriate
You might think, as I did, that there wouldn't be that much customer support for an online sales business. I was very wrong. Mistyped addresses, misspelt names, delivery instructions left off the order, requests for a specific numbered edition, orders in error, items not arriving, digital copies sent to the wrong email address (incidentally the email address entered by the customer) – the list goes on. Customers are however a companies biggest asset so taking great care of them is vital. It's been said many times that great customer support is great marketing and I certainly subscribe to this.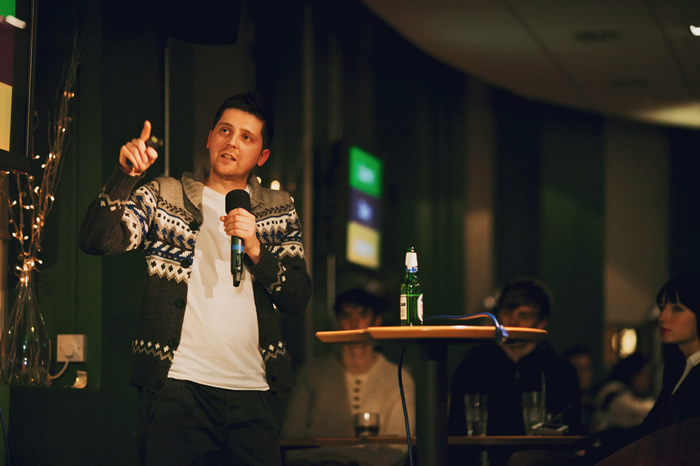 After battling the inbox, often at the expense of my "day job", for a few months we realised a change was needed. In January 2013 Elliot and I decided that we would take the plunge and outsource our support. Thankfully our good friend Rob Mills was happy to come on board and take charge.
Rob Mills — A valuable member of team Viewport
Rob's day job is Studio Manager for Bluegg, a Cardiff web agency. Additionally Rob regularly presents at web events, is a published author and also helps out with Digest. Rob is more organised than Elliot or myself will ever be. He's also really great at helping our customers and a valuable and, valued member, of the team.
Admittedly it's a cost to the business, and one we couldn't afford initially, but as your sales grow it's something worth thinking about. A simple equation can help you decide whether outsourcing is right for you — if the amount you earn an hour is higher than the cost of outsourcing your support then I would argue that outsourcing should be considered. Put simply it's better to outsource and focus on the higher revenue generating activity.
The other big consideration is distribution — a prime candidate for outsourcing. A good distributor, and there are many independent ones out there, will help you with many things including:
Storing your products
Custom packing cases
Custom label printing
Bulk shipping rates
Returns management
One of the main advantages is that a good distributor, we use a company called Data Driven based in Bristol UK, will get you the best rates possible for shipping — both domestic and international. Shipping your products is costly. Unlike some countries the Royal Mail (the main mail distributor in the UK) has many rules relating to size and weight of packages. Consequently the size of your product is an important consideration.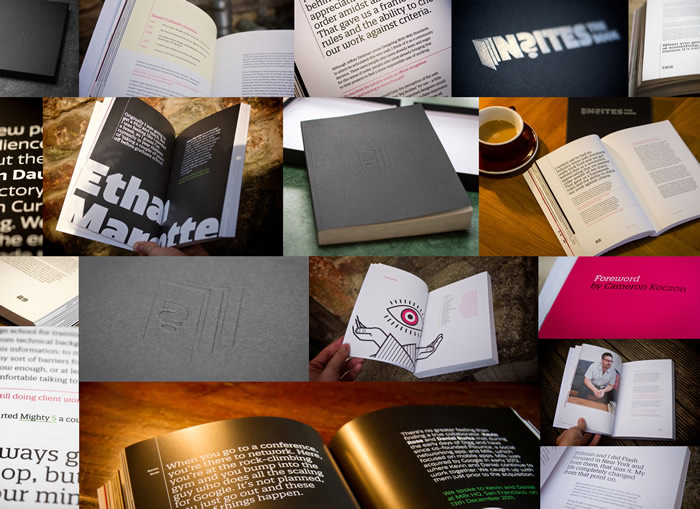 When we were in the process of working out the dimensions for "Insites: The Book" our preferred size would have tipped us into a higher UK shipping band — literally by a few millimetres. This would have resulted in having to charge more for shipping which was already costly. As a result we reduced the size, albeit not by much, and kept within the lower banding. This reduced the cost to the customer both domestically and internationally.
Returns, Resends & Damages
When you ship a good to a customer you naturally assume that it will arrive in pristine condition and arrive in a timely fashion. Sadly this isn't always the case. You will get customers, often angrily via Twitter, complaining of an opened package, a damaged product or bemoaning that the item they ordered two days ago from the UK hasn't arrived in Australia yet.
The cost of replacing goods and resending returned items is important to consider. I mentioned earlier that I factor in around 5% for the cost of selling online and in general returns, resends and replacements can be accommodated into this.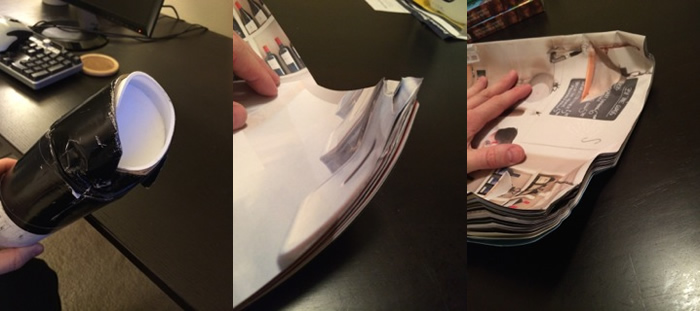 Despite our best efforts and robust packaging damages do occur
When things don't arrive we always resend. We double check the address and ask for additional details that may have been omitted that we can add to the delivery instructions. More often that not the initial resend arrives.
There was one occasion where we sent three books to the same individual, none of which arrived. We ended up refunding him the full price of the sale and sending complimentary digital copies by way of compensation. That cost us a lot of money but bought us more in good will. Hopefully the customer knows that we did all we could to help out and that he would consider buying from us again despite the experience.
Don't be afraid of Discounts
Once your product has been on sale for some time you might want to take advantage of one of the great online sales tactics — the flash sale. Discounting your product is one way of generating sales, especially if the discount is time limited. You could argue that discounting your product is decreasing the value and admitting that it's standard price is too high. However the fact remains that everyone loves a bargain and a discount, however small, might swing over those customers who were "on the fence".
Black Friday and Cyber Monday are great times to push a special offers to your email list, Twitter followers and Facebook friends. We have found that stupidly big discounts work especially well. If your profit margin can cater to a discount of 40%-50% I recommend you give it a go. Customers expect to spend online at this time of year and there's no reason you should miss out on the frenzy. Other options include offering a discount code which includes a free digital good (after all the unit cost of digital production is virtually zero).
Occasions you may wish to offer a discount include:
Your companies birthday – A genuine celebration, let your customers join in too.
Holiday season – A time of year when people spend.
New year – a great time if your product has anything to do with self improvement, health etc
Being able to discount your product offers you flexibility, especially once it's been available for a while. Most people love a bargain — I know I do!
Have Fun
A side business is a great way to dip your toe into commerce. If you are able to pay your way by other means it offers you the opportunity to try your ideas out, see what works, what doesn't and ultimately build a platform for future projects. Shipping your products will also open doors that previosuly were closed. The more you ship, the more people know about you, the more people will want your products — both existing and future.
It's also vital you have fun along the way. Celebrate the little victories, enjoy the successes however small and build on the momentum. Our Insites: The Book launch was one such example — a great opportunity to spend time with those involved in the project as well as a few of the interviewees and partners who made it possible.
To Summarise
We've covered a lot here — I hope you found it interesting and ultimately useful in your own ecommerce journey. To summarise here are the key points:
Have a great online ecommerce toolkit
Obsess about costs
Work hard on pricing
Build your market from day one
Outsource where appropriate
Bend over backwards for your customers
Don't be afraid to discount
Celebrate the little victories and enjoy it
The ideas here are of course not all my own. I regularly read books and articles by entrepreneurs from all walks of life. I encourage you to soak up their lessons, try out their ideas and see what works for you. Like with any endeavour it's a constant case of trying, refining, adjusting, "failing" and trying again.
Having a side project or business allows you to dip your toe into the business arena and try out your ideas. Who knows before you know it your little business could turn into your full time day job. When that happens please let me know, I'd love to hear how you did it!