Webinar - Empowering Women in a Time of COVID-19
Finding Clarity in the Blur of Home, Agency, and Pandemic
To open our panel on empowering women during the pandemic, moderator Dimple Thakkar summarized the state of things:
"Normally, all of you would be sitting in an office, surrounded by coworkers, spreadsheets, and the clicking sounds of typing on a keyboard. Instead, we are in the middle of a global pandemic with no vaccine in sight – or even a specific treatment. And to make things even more concerning, inequality for women just became a whole lot more challenging."
Over the next hour, our panelists shared the ways they've been both personally and professionally affected by a situation that blurs the lines between life's many corners. And they explored ways to reframe the predicament: Show your strength, hold your confidence, and align success to your own values.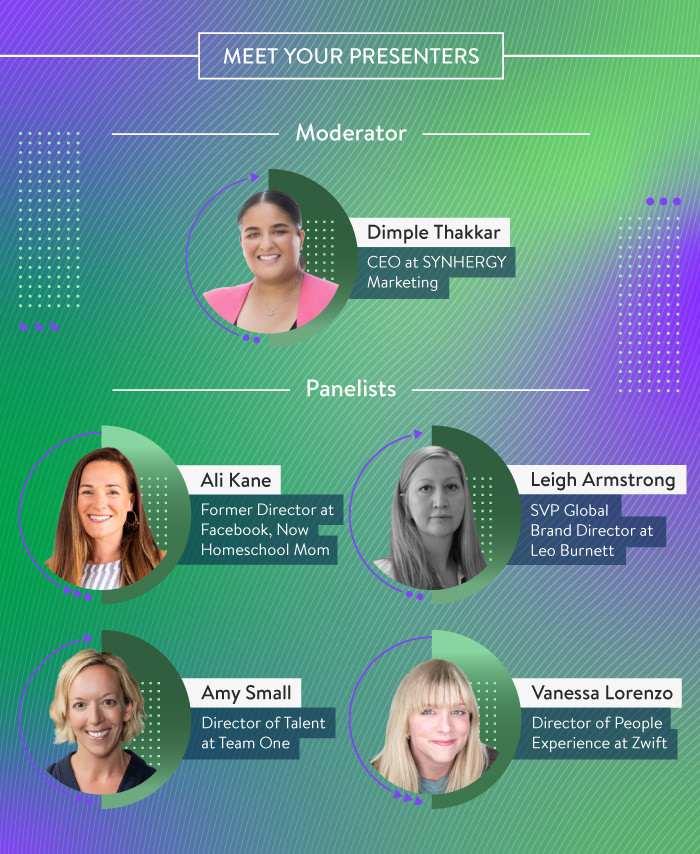 Just a few of the powerful ideas shared over the course of the webinar:
On what leaders should do in the short term
Make sure that everyone's okay and that we aren't losing talent due to burnout or imposter syndrome, which I think many women right now probably have – not feeling good enough when they're doing every job all at once.
— Ali Kane
On recognizing strength within chaos
COVID has taken what's been going on in the background of women's careers … and put it quite literally on the camera. We don't have to see this as a weakness. The amount of things we're juggling is not a weakness. It's a super power.
— Amy Small
On inverting the interruptions of children
My daughter's a little older but still can just barge in on any conversation at any point. Rather than ignore her, I'll often say, "Would you like to come and introduce yourself? Because I'm talking to a room full of people." And I've found that she often will quickly leave.
— Leigh Armstrong
On forging your path in a job search
Make sure that even if you don't have every [skill in a job listing], that you are applying. If you could do some of them – if you can describe your transferable skill set – then apply. Apply, apply!
— Vanessa Lorenzo
On clearly stating your worth
I talk about salary with candidates I'm interviewing. Women will often do the math for me: "this is where I am currently, this is the bonus I make, this is how much equity I have." I can probably argue with the math all day long. I can say to you, "Well, we don't know that you're going to get the bonus this year. We know your stock for your company is down, so your equity is not as valuable. I hate to say this, but I can work you back from a numbers perspective. But if you just own "this is the salary that I want to make," I can't argue with that. That's where you value that job, and that's where you value yourself.
— Amy Small
On the role your values play in defining success
Owning what success means for you is going to be different for every single person – depending on your personal values, depending on what life stage you're at. And you have to spend time thinking about that.
— Ali Kane
On the importance of small moments
I'm good at setting boundaries, but I'm also carrying this anxiety about how I'm showing up in all these different places. This is hard. There are definitely days when I've got it. And when "success" is me and my littlest one in our pool in the background, and I got 15 minutes to see him smile. I know that was "success" on that day.
—Vanessa Lorenzo
On reinforcing your confidence
Stop saying sorry. Stop apologizing. Cut that word out of your vocabulary. Because you devalue yourself and you give an awful projection of yourself to other people.
— Leigh Armstrong
On showing courage in uncertain times
Consider our healthcare workers. They're working day in, day out. And it was the coronavirus that showed us that level of courageousness. Our educators and teachers, they're trying their very best to keep our students engaged online. And again, coronavirus is showing us their courageousness. So I can only hope the same sort of courageousness we've seen erupt in certain aspects of society also occurs for women in the workplace as well. We've got to step up and above all show that courage.
— Dimple Thakkar
This panel was presented in partnership with Step Up, whose mission is to empower girls in under-resourced communities. At a time when the challenges facing students and professionals seem harder than ever, we believe the mentorship that Step Up provides to be critical to building equality in the workplace. As Leigh Armstong said during the panel, "It's even more important now in this virtual world to have human connections. If you don't have one, go find a mentor. And same for the other way around, go get a mentee."
Be sure to check out the full recording of the Empowering Women in a Time of COVID-19 webinar, and watch the Media Temple blog and Twitter for our next webinar.