Experiential Marketing & The Pandemic Pivot
Events, conferences, parties, brand houses – among the first things to be canceled by COVID-19 and likely to be among the last to come back. That shift toppled the face-to-face world of Experiential Marketing – a major driver of brand relationships and a big source of agency work.
But after nearly a year in this new landscape, we've seen some brands and agencies successfully make a pandemic pivot. How have they done it? What do live events look like now? What's worked? What hasn't? And what remains to be seen?
At a recent panel, we brought together notable names from the world of experiential marketing to discuss the changes of 2020 and to consider where things are heading in 2021.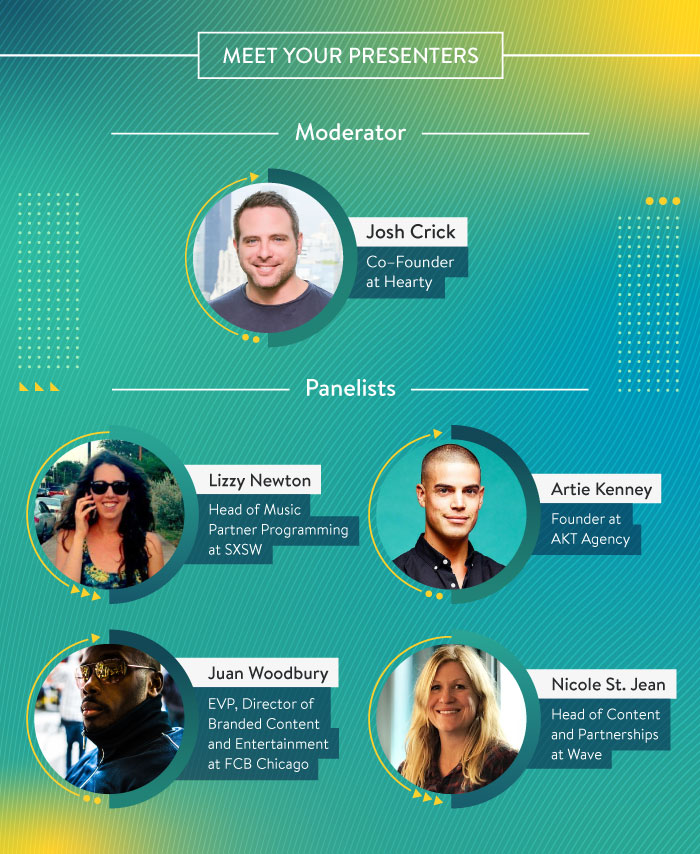 Community Moves Experiential Marketing Forward
At its heart, interaction drives experiential marketing – building social relationships through live experiences. And that heart guides experiential marketers through this challenging new frontier.
Resounding through the webinar: Collaboration has been key.
Our panelists talked about sharing advice and clients. Even with less face-to-face contact, their agencies and brands have found ways forward by leveraging their professional communities. As Artie Kenney said, "I found myself talking to people more and more – just figuring out how we can help each other."
Audiences look for those social ties in the growing world of online events, too – something more than staring at a screen. Lizzy Newton reminded us that forums of interactivity are essential, "People still want to interact with each other. So even if content is prerecorded, figure out some way to include a chat within the platform."
The panel's host, Josh Crick summed it all up well, "Whether we use the word pivot or evolution or adaptation, it's really about building relationships and being open minded."
Check out the full video of the webinar above to hear from all of our panelists on how they've approached this drastically changed landscape.
Giving Agencies the Tools They Need to Succeed
Media Temple has long been a promoter of the creative and agency community whether through events, community activities, or our Agency Partner Program. Always feel free to reach out to us about ways we can support your agency.