Say Hello to Media Temple's New and Improved WordPress Onboarding
Earlier this year, we launched our Premium WordPress hosting solution, which combines the best of WordPress hosting with our award-winning customer support. Based on feedback from our customers, we've taken a serious look at how to make it easier to get started with Premium WordPress, and here are some highlights:
Migrating to Premium WordPress from another web host or our own Grid service is now much faster and easier;
A theme can be selected at the start, so you can start building your site and adding new content right away;
The Premium WordPress admin panel in the Account Center has been bolstered as well, giving you one place to view and manage plugins, stats, and tools.
Getting started on Premium WordPress is now quicker and simpler than ever. Oh, and one more thing — while your site gets provisioned, we have a fun, spaced out surprise for you to enjoy.
New, Exclusive WP Themes
We are also introducing two exclusive WordPress (WP) themes, Folio and Enlighten. You can either use these to build your site or pick one of the two themes we launched earlier this year: the responsive and customizable, Journal — great for long-form writing, perfectly complimenting a designer's minimal portfolio site — and Emulsion, a visually rich, full-screen theme for photographers. (Of course, you're always free to use any standard or custom WordPress theme, too.)
Jon Setzen, Media Temple's Creative Director, and Maggie Tielker, our in-house Art Director, wanted to share more details about our two new exclusive WP themes, Folio and Enlighten.
Jon Setzen, Creative Director, on Folio.
Q: What is the major benefit to selecting your theme during the onboarding process?
When we're creating a new experience for our users, we always ask ourselves: "What can we do to save them time?" So we made the onboarding process a lot more fluid. By selecting their theme during the site creation process, users are jumping right into the WordPress Admin to start adding content to their site. For those customers who don't want to use a custom theme, they can just as easily choose "no theme" and move quickly into the WordPress Admin.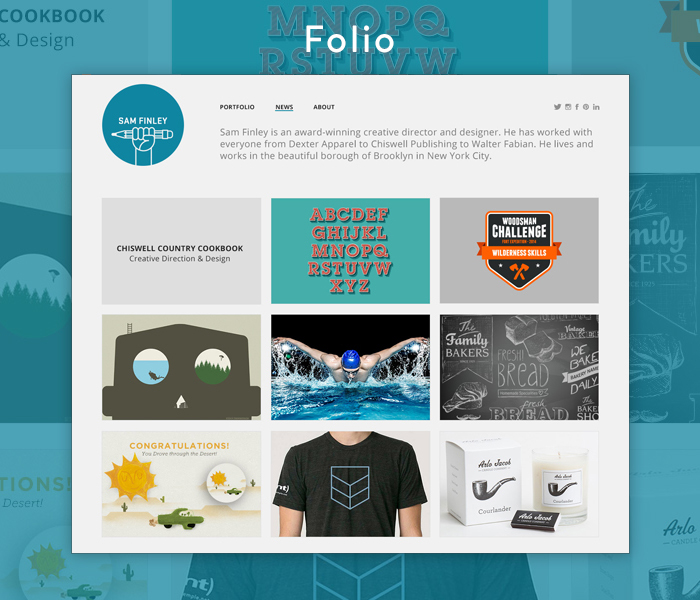 Q: The new Folio theme feels snappy and efficient. Can you describe its perks?
Similar to the other two themes built in-house, Journal and Emulsion, we listened to what our customers were telling us they needed and wanted, before developing Folio. A lot of web designers and small studios who host with us are looking to build a minimal portfolio site. So we designed a theme that they'd like to use. It's a simple grid that puts the work first and everything else second. Each project has ample room to list any number of large images as well as a thorough description of what was created and why. The theme also comes with a news blog for quick and easy updates, as well as a free-form "about" page. Of course, just like Journal and Emulsion, our Folio theme is fully responsive so users' work looks great on any device.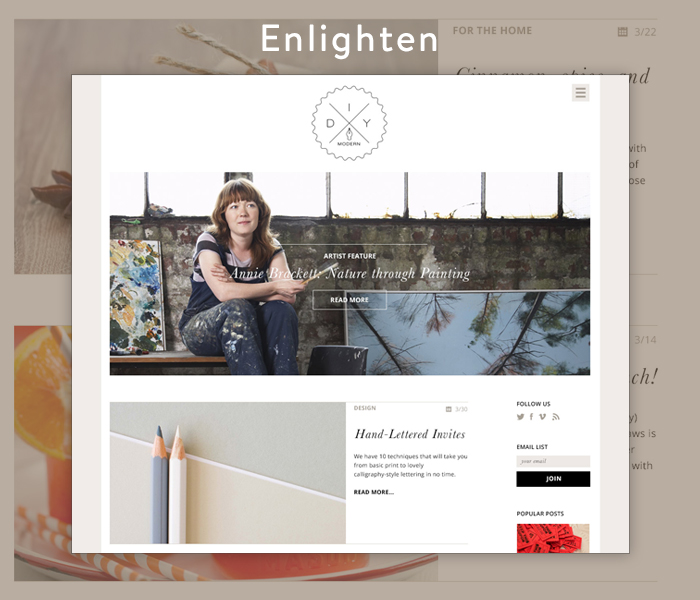 Maggie Tielker, Art Director, on Enlighten.
Q: Enlighten comes off as very organic with a lot of personality. Who is it for?
I describe Enlighten as an elegant blog theme made with creative, do-it-yourself types in mind. More specifically, I would say it is the perfect go-to "bloggers' blog." Serial posts stack up neatly and the collapsible navigation leaves a focused space for exploring content with little distraction. The design itself is light enough to allow for lots of robust images of projects, recipes, art pieces, and unique branding. But it is also detailed enough to look beautiful on its own with just text. I envision artists, fashion bloggers, crafters, parents, food and recipe enthusiasts, and writers using and loving this theme.