Death of the Cookie – Preparing for a New Marketing Landscape
For anyone involved with marketing, news of Google's Privacy Sandbox initiative and its effort to eliminate third-party cookies by 2022 has come with mixed emotions.
From the perspective of a web user, the initiative feels like a breath of fresh air in today's privacy-be-damned webosphere. For advertisers though, it hits like a George Foreman punch. And between both, it may notch up anxiety over Google's increasing centrality in digital advertising.
Apple's recent "Tracked" commercial brilliantly personifies the fundamental issue with third-party cookies. (Props to TBWA/MAL for their work on this!) In the commercial, "Felix" makes purchases and finds an increasing number of business representatives following him – peering at his personal information and sharing it with each other.
As expressed in that ad and Google's communication about its own initiative, there's a problem here that everyone agrees needs to be solved. The double-edge, though: Web marketing has become so reliant on third-party cookies that even the least nefarious strategies will be shook by the death of third-party cookies.
To get a better sense of what life after cookies will look like, we gathered a panel of experts to discuss how they're grappling with this seismic shift in digital marketing.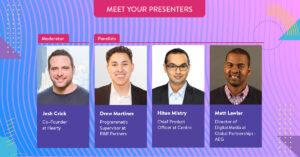 The Cookie is Dead, Long Live the Cookie
The first thing that became abundantly clear in our conversation: The elimination of third-party cookies puts a greater importance on first-party cookies – and more broadly, first-party data.
Hiten Mistry of digital advertising platform Centro put it this way, "What's really happening with the change of cookies, is it's moving the work from these software tools more upstream towards the brand."
Rather than accumulating every piece of data from every interaction across a third-party network of data relationships, brands will be left to their own devices. That means exploring deeper opportunities inside their own experiences.
Matt Lawler of AEG – the worldwide live-entertainment company – described how the accelerated shift to contactless mobile ticketing in the event space is opening this door. "That allows us more points for authentication to understand 100% of the people in the building. We're really excited about the opportunity to capture additional first-party data as we move into the future."
The Personalization Paradox
Despite the crumbling of third-party cookies, there's still a strong appetite for the kinds of user interactions they allow for. Hearty founder and panel moderator Josh Crick presented what he's experienced at his agency, "CMOs have been saying they want more personalization."
Drew Martinez of R&R Partners set the groundwork bluntly, "It's going to be more difficult from a one-to-one user basis to personalize a message or creative to one specific user."
According to Martinez, the key will be for brands to consider a new perspective. "It's about understanding the landscape and what's ahead. Identify what potential situations are out there that other companies are building: like Hiten's team [at Centro], and what Google is doing with FloC, and what The Trade Desk is doing with UID 2.0."
Again pointing toward the need for a deeper look within, Mistry added, "There's going to be more pressure on brands to group their first-party data into cohorts to enable personalization – grouping them into more granular cohorts as a way to send that data from all the systems and be able to use it."
And internal collaboration will be essential, as Martinez said, "There is going to need to be a strong connection between a media buying team and the creative side – aligning strategies and what their framework is."
Attribution: Exploring the New Unknown
Determining the business lift of any particular channel or platform has always been the holy grail of marketing. By utilizing third-party cookies, marketers have gotten some unprecedented views at how individual pieces of the funnel have boosted business.
Much of that information will shift back into the fog, now. But brands need to stay clear headed.
"The impact that Facebook has on a company's bottom line isn't going to change: It's just what's going to be shown or seen in the platform. There needs to be a stronger emphasis on measurement and attribution – whether that's lift studies or causal analysis," says Martinez.
You won't be positioning your business well by simply shrugging shoulders and operating on opinions. Testing, analysis, and finding the connections between channels becomes a critical advantage in the business landscape.
Lawler talked about this from a brand's perspective, "We've started doing a bunch of things to help connect offline and online without needing a Nielsen [or] a Facebook. We're certainly testing how to provide a solution from the brand level."
Analysis Will Be Key
In some ways, the new first-party-led environment is simpler than the elaborate networks of third-party data that brands have grown accustomed to. In other ways, it adds complexities.
"The strategies are – in a way – going back to basics. But what comes with that is complexity and messiness. There's a lot to coordinate and keep track of in terms of testing and what worked, what didn't work, the analysis related to it," said Mistry.
A company's success in this new era will likely lie in their efficiency with the additional analytic work. As Mistry put it, "It really comes down to how fast you can test and how fast you can analyze the results. That's going to determine how fast you can optimize."
The Digital Evolution Continues
While it might be easy to think the progress of marketing technology has been halted, Lawler points out that this shift doesn't change digital's influence.
"Digital still provides the means for measurement," he said while considering the future marketing landscape, "Even as TV becomes more connected, even as radio and streaming become more connected, it's still digital. It's all using the same underlying principles. I don't think those channels go away. They just evolve."
Martinez summed the death of third-party cookies up this way, "We've always had to be agile and open to new horizons … There's going to be growing pains along the way, but this will allow brands and advertisers to remove the fluff and hone in on metrics that truly make an impact on the company's bottom line."
To hear everything our panel shared, check out the full webinar recording.
Gain a Partner for Your Digital Projects
Media Temple has been hosting ambitious web projects for over two decades. And as a member of our Agency Partner Program you get elevated access to our team of experts. Find out more and apply today.