An Overview of Managed Services for AWS from Media Temple
Cloud computing provides enormous opportunities for nearly every organization. It allows you to move faster, lower IT costs, improve uptime, and scale to meet your customer demand. That being said, moving to the cloud is a complex and multi-step journey, and optimizing for both cost and performance requires specialized skills. Media Temple has over 20 years of experience hosting business-critical sites, and we have been helping our customers migrate, deploy, manage and optimize their Amazon Web Services (AWS) infrastructure since 2015. With Managed Services for AWS from Media Temple, our AWS-certified experts will allow your company to take full advantage of the efficiencies of the cloud without the burden of architecting, deploying, and maintaining complex cloud infrastructure, so you can stop worrying about your infrastructure and focus on your business.
Managed Cloud Services – In Brief
Our team understands that you want to leverage the power of the cloud to delight your clients and their customers, but administrating and orchestrating cloud infrastructure is most likely not where you want to spend time and resources.
To ensure you have options when considering managed services on AWS, Media Temple offers two flexible service level offerings to meet your requirements based on where you are with your journey to the cloud: Advisory and Fully Managed.
The Media Temple "Advisory" service level offering is designed for those customers who prefer to manage their own infrastructure but with access to expert consultation, powerful tools, and enforcement of best practices when needed. With our Advisory service level, you get access to Media Temple's tooling and guidance while you manage your AWS cloud on your own. Whether you have in-house AWS proficiency or are building it, the Advisory service offering gives you full control with our specialized expertise available on demand.
The Media Temple "Fully Managed" service offering takes the heavy-lifting out of managing your AWS infrastructure and puts it into the care of Media Temple's AWS-certified experts. Our team will handle architecture, deployment, security, and optimization, all while delivering unlimited 24/7/365 operational support. We also offer a 15-minute emergency service level offering (SLA), ensuring that we will have a close eye on your infrastructure with a goal of catching, communicating, and fixing issues before you even notice them.
Addressing Three Challenges for Successful Cloud Adoption
Organizations can typically face three challenges during the journey to the cloud: Migration to the AWS Cloud; 24 x 7 DevOps support, monitoring & incident management; and Cost and Performance Optimization.
Cloud Migration
Migrating websites or apps can be challenging and often disruptive. Executing a migration with proper planning and clearly defined goals is critical to ensure your new technology strategy will be a success.
When migrating to the AWS cloud, Media Temple has instituted a set of best practices based on our decades of experience migrating over 150,000 customers. Our migration process begins with a Media Temple AWS-certified Solutions Architect conducting your Application Assessment. This consultation is focused on developing a solid understanding of your organization's existing infrastructure, your business challenges, and the goals behind migrating to AWS. The information gathered in this assessment allows us to create  a high-level architecture that designs a solution based on your business objectives and sets a pathway for success.
A successful migration requires a solid project plan and a project manager to own it. Our Managed Service customers are assigned a dedicated onboarding manager as your single point of contact for all matters migration. The onboarding manager is responsible for managing timelines and ensuring that your migration goals are met, as well as your liaison to the Media Temple technical teams. The onboarding manager is also responsible for creating your IT operations systems architecture instructions, setting up monitoring for SLAs, creating Slack channels so your technical contacts can more easily interact with Media Temple engineers, and tracking your Key Business Objectives (KBOs) during and after the migration.
24 x 7 DevOps Support, Monitoring, & Incident Management
After migrating you to the AWS cloud, our focus pivots to maintaining our customer's sites/apps alongside the integrity of the underlying AWS infrastructure. Media Temple has U.S.-based DevOps teams staffed with AWS-certified engineers available 24/7/365 to provide unlimited support. That's right, unlimited – because your peace of mind and trust is important to us.
The Fully Managed offering comes with a financially backed, best-in-class, 15-minute emergency response time SLA. While reactive support is crucial, we strive to be pro-active as much as possible. Media Temple uses New Relic, Panopta, , and other state-of-the-art tools to monitor and maintain your site or app's infrastructure. In the case of an emergency, our monitoring process automatically logs your support case and instantly routes it to the appropriate team for incident response.
Our DevOps teams also ensure that your environments are regularly patched and secure. Our change management process integrates with yours and the Fully Managed Service Level offering includes updating and refreshing of your infrastructure architecture should your business and technology requirements evolve. For example, if refactoring an application to take advantage of serverless cloud services like AWS Lambda becomes a priority, Media Temple can help re-design the architecture and build it as part of a Fully Managed offering.
Media Temple has a mature DevOps culture, and our tooling and automation reflects the DevOps philosophy. We are able to accommodate unique and complex customer requests because all AWS infrastructure is deployed with Infrastructure as Code (IaC) approach. The IaC process enables version control and minimizes configuration drift which helps us quickly deploy new changes and respond in a consistent manner to any outages and incidents.
Cost and Performance Optimization
One of the biggest benefits of AWS and public cloud, in general, is the 'pay as you go' pricing model. This model allows organizations to  focus on launching new solutions in a timely manner, rather than budgeting for capital expenses and hardware acquisition.  Additionally, the model provides agility to allow for the optimization of both cost and performance, since you can take advantage of the economies of the AWS cloud, reducing spend but scaling to meet customer demand.
Optimization is an ongoing process in the cloud, and as your business and technology requirements evolve, the AWS architecture needs to consistently be tweaked (or sometimes re-architected) to meet these new requirements and possible budget constraints.
Media Temple assigns a dedicated Service Delivery Manager (SDM) to every Fully Managed customer. The SDM is responsible for ensuring that the cloud environment is fully optimized, meaning every customer is getting the most out of their investment in the cloud. In doing so, we take a data-driven view of optimizing AWS environments. Media Temple Iris™, an AWS insights portal, can generate user-friendly consumption reports with deep insights about current usage, AWS inventory, usage trends and even help predict future costs.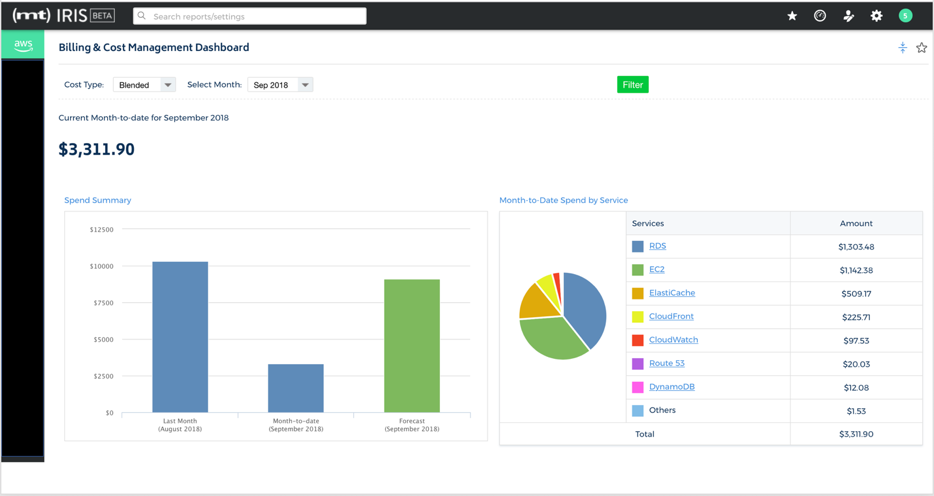 Regular account reviews are part of our customer success strategy. They help us connect with you directly, review progress against pre-agreed key business objectives, and understand your current and long-term plans for your AWS environment. Reports generated by Iris, coupled with the Service Delivery Manager (SDM) reports during monthly and quarterly business review calls, allow us to optimize any infrastructure for cost, plan with more certainty about the future, and get the most performance out of your cloud implementation.
Customer Look: Rhino Group
Rhino Group provides website consulting and implementation services including custom web development advanced integrations and SEO services for everything from a simple brochure site to a complete ecommerce store. Their ecommerce customers have specific requests for improved site performance, guaranteed web site uptime, and scalability. Growing into the AWS Cloud, Rhino Group worked on a strategy for their retail customers with Media Temple to ensure they could meet the demand of a planned high traffic spikes such as Black Friday, and ensure their environment would scale with unplanned activity as well.
"Media Temple provided us immediate support as we were getting off the ground, as well as guidance around the strategy and execution for the final launch date," stated Justin Zarr, Rhino Group General Manager. "Rhino Group is thrilled with Media Temple's support and level of engagement, allowing us to get to market faster and ensuring confidence for our success."
Start Your Journey Today
Managed Cloud Services for AWS from Media Temple can help you get the most out of your AWS investment. If you are ready to move to the cloud or are already in the cloud looking to optimize your footprint, let us help you navigate the complexities of this journey. Sign up today for a free cloud-readiness consultation with one of our AWS-certified Solutions Architects to see how you can get the most from the AWS cloud and meet your business needs.