Installing Ghost + Node.js on Your DV Developer
Over the past few months, we've heard some significant buzz around a new blogging platform called Ghost. From the conceptual blog post by John O'Nolan to the overwhelmingly successful Kickstarter campaign (in which it raised $100,000 in the first 48 hours), Ghost has been on a tear. We've had a chance to play around with Ghost and wanted to showcase how simple it is to get started.
To begin, we'll be using a newly provisioned DV Developer running Ubuntu 13.04 (Raring Ringtail) with Node.js. Node.js is a modern platform for building fast, scalable and efficient web applications. Because it uses an event-driven, non-blocking I/O model, Node.js is perfect for data-intensive real-time applications.
If you haven't already, take a look at our KnowledgeBase article on installing Node.js before moving on.
Once you've got Node.js installed, you can download the Ghost package into your working directory:
Note: Please visit the download section of the Ghost website to ensure you are downloading the most recent, stable version.
Now, unzip the Ghost package and install the application dependencies using `npm`:
# unzip ghost-0.3.3.zip
# npm install --production
When npm is finished installing the required packages, make a copy of the configuration file:
# cp config.example.js config.js
Open the config.js file using your favorite text editor and modify the `production` section to use the IP address of your DV Developer. You can find this information in the Server Guide of the AccountCenter. The end result should look like this:
host: '[DV Developer IP address]',
port: '80'
Save the file and start the server:
# npm start --production
> ghost@0.3.3 start /var/www/ghost
> node index
Ghost is running...
Your blog is now available on http://my-ghost-blog.com
Ctrl+C to shut down
Ghost should now be running on your DV Developer IP address. To configure the administrative user, go the following URL and complete the setup:
http://[DV Developer IP address]/ghost
That's it! If you run into trouble, be sure to check out the official documentation and comprehensive guides at http://docs.ghost.org/. Happy blogging!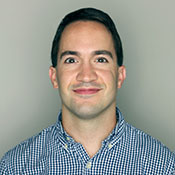 About the Author: TJ Stein is the Director of Support at (mt), BBQ lover and a CMS and platform enthusiast. TJ is an expert in hosting environments and website optimization. See more of TJ's insights on his website and follow him on Twitter