Web Design Trends for 2021: Creative Leaders on Shifts in the Design World
Being on the cutting edge is everything in the world of web design. And with increased attention on digital properties, building a website that looks – and functions – ahead of the competition makes a huge difference.
That's why we hosted a panel of creative leaders to discuss the way design approaches have been shifting. Check out the recording above and the highlights below for insight on the changing face – and heart – of the web design world.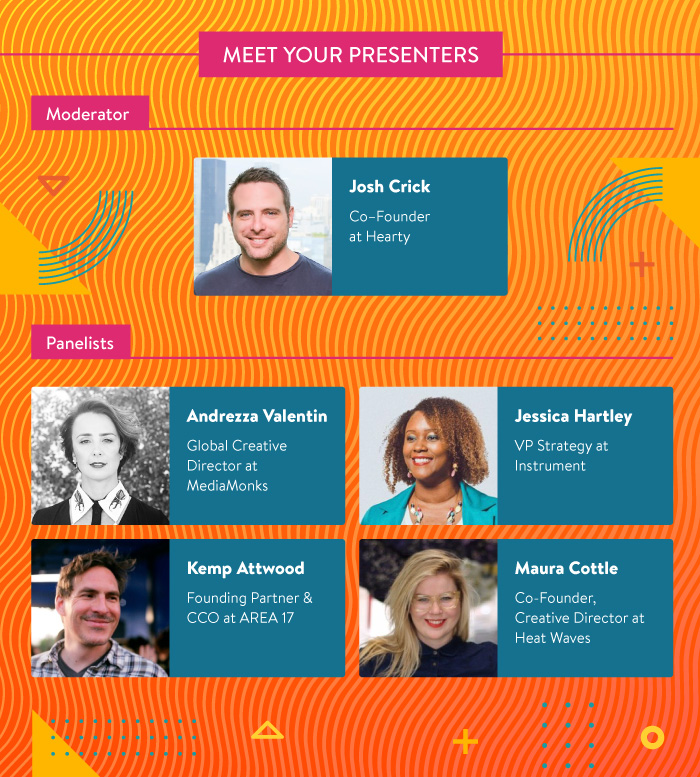 Trends in Designing Experiences
During the webinar, our panel considered the reasons behind some of the trends we're seeing developing. Those trends include:
Scrollytelling

– Elaborate animated content experiences that are driven by the user scrolling through the site or page. Example: Millennials Are Screwed.

Dimensionality

– A shift away from flat design seen in trends like 3D-rendered artwork, gradients, and glassmorphism, with soft subtle shading.

Interface Preferences

– Options to change the look and feel of an experience based on personal taste (the "Dark Mode" trend) or accessibility (colorblind modes).

Broken Grids

– Looser adherence to – and deliberate flaunting – of the rigid column and row structure that most layout design is built on.
Here's what the panel had to say in considering the motivations behind the uptick of these trends.
Kemp Attwood
What we've seen with our clients – especially during the period of this pandemic – is an attempt to move away from just content delivery to content experience. And so, we're looking at every little aspect of how the content can be brought to life in a way that we can experience it – understand it in a way through more than just reading or looking.
One of the things that's driving this trend is [the desire] to make data and information more understandable. And that translates into a lot of animation – some really interesting sort of ways of presenting data you know, whether that's hard data or, you know, just information.
Jessica Hartley
For so long, you could just be very surface. And now there's so much free surface content and free surface experiences out there – Tik Tok and so many things – that brands have to bring another level of gravity to what they're bringing to market.
Maura Cottle
The sort-of "Chipotle-fication" of experiences – making it so that I can see things the way I want to see them when I want to see them and how I want to see them – is definitely a trend.
Kemp Attwood
There's a response to the lack of tactility that we have in our day to day. There's a strong trend – you see it really strongly in fashion – to 3D and creating immersive environments. There's an ambition to make our digital experiences feel a bit more real.
Andrezza Valentin
Because we're now isolated from people, there's a design for self expression. How can we make design reflective of "who I am"? That's influencing design: How can we break from the grid – from the sameness that a rigid system creates. How can we allow for a space to be more creative – a space for self expression.
The Trend Toward Responsible Design
Galvanized by movements aimed at expanded representation, design teams are increasingly seeking diverse perspectives in building experiences for diverse audiences. The panel discussed how their teams work to embrace ideas of inclusivity and accessibility at a foundational level in their design work.
Jessica Hartley
The biggest shift I've seen – that we're also pushing – is [questioning if we're capturing] the true notion of the voice of the consumer. You know what you thought you knew before the pandemic and the world shut down. You have to question everything: Who you thought your customers were, what you thought they were excited about, and what they did then versus how we operate now.
When we think about the start – the brief, research, consumer insights, ethnographic studies – we have to expand. You have to go bigger. You have to go broader. It's not always the same person that it was a year ago. That fertile soil will then contribute to what you're going to design for and what those experiences are going to be.
Kemp Attwood
We've had the benefit of working with organization that have really made [accessibility] their core responsibility. We've had the opportunity to really think about accessibility – not just checking off boxes. It's been an opportunity for everyone's mind in the agency to be shifted.
Andrezza Valentin
Our main goal is to create a more diverse team, because that does influence and change the work – improves the work. We are going back to the client and sometimes proposing something that connects to a broader audience in a meaningful way. It's our duty to make sure that our team is more diverse. Otherwise, we just keep reinforcing the same point of view.
Jessica Hartley
It's not just having more diverse representation sitting around the table. It is also the environment and culture that you are creating – to challenge the status quo and challenge the norms. We've got to create environments where we can have the people there that have a different perspective, but also feel comfortable that when they [voice a] challenge it will be received well.
Giving Agencies the Tools They Need to Succeed
Media Temple has long been a promoter of the creative and agency community whether through events, community activities, or our Agency Partner Program. As you explore the next big trends in building for the web, please reach out about ways we can support you.