Founded in Chicago, IL, in 2004, Rhino Group is a boutique web design agency that aims to maximize their clients' digital presence online. From a simple brochure site to a multiproduct ecommerce store, Rhino Group specializes in WordPress and Magento development and manages 250 client sites. With specializations in site maintenance, security, SEO, conversion rate improvement, and marketing optimization, they are a complete, end-to-end agency for their clients' needs.
Holiday Madness
A major apparel retailer approached Rhino Group to develop an online ecommerce solution that focused on consumer-direct sales. Rhino Group partnered with Media Temple to build the site on a traditional hosting solution. But the holiday season was upon them almost immediately. Unaware of the massive traffic that the annual Black Friday Sale generated for their client, Rhino Group was unable to scale their hosting environment on short notice. This led to their client experiencing slowdowns and periodic outages during the most business-critical time of the year.
A Scalability Problem
In order to avoid the results of the previous year, Rhino Group put together a set of criteria for a new solution. It had to be highly available, with the ability to scale up in resources and also withstand and sustain data center outages. And finally, it needed a support team that was willing to help around the clock while also monitoring site performance and alerting the Rhino Group team whenever there was an issue.
A Cloud Solution
Media Temple recommended a solution built on Amazon Web Services (AWS), handled by their very own Managed Services for AWS team. Using Elastic Load Balancing, incoming traffic would be distributed across multiple Availability Zones on Amazon's Elastic Compute Cloud (EC2). By routing traffic to available EC2 instances, downtime due to data center outages was negated, and dynamic site scalability allowed for spikes in traffic to be handled without customer impact. To improve speed, static assets—such as images, javascript, css, and fonts—were cached on Amazon CloudFront, AWS' content delivery network, to ensure rapid global delivery. This had the added benefit of reducing the amount of requests the application servers were handling at one time, creating a smoother, faster browsing experience for each customer. Media Temple's Managed Services team monitored the site daily, ensuring Magento and other applications were up-to-date and firing on all cylinders.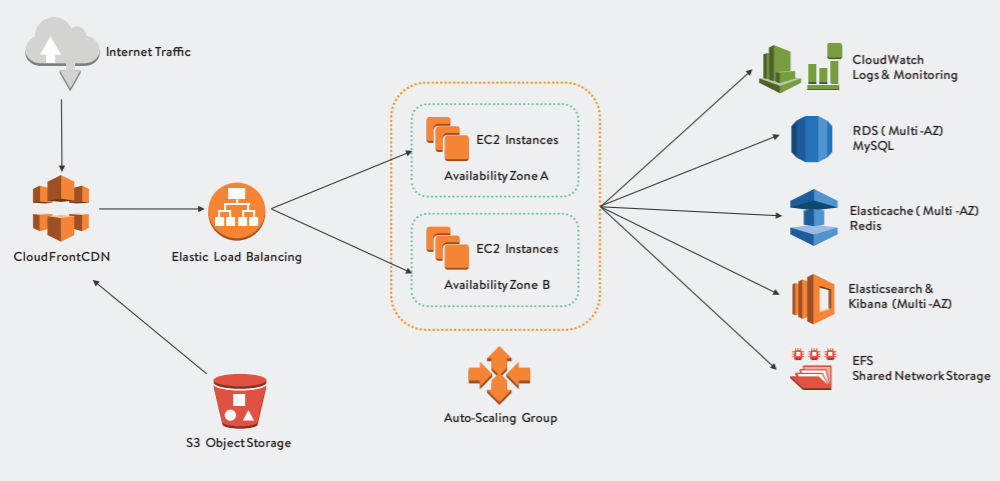 The Outcome
Rhino Group established reinforced confidence with their client, with unparalleled Black Friday and Cyber Monday success. Not only did Rhino Group see the benefits immediately, their client saw a 65% growth in Black Friday sales and a 33% improvement in their conversion rate the following year. This included their largest single sales day in their site's history. Traffic spikes didn't lead to overage fees that year, meaning all this was achieved within their budget.
"To stay competitive, we needed to run on the cloud to ensure high availability and the agility to get to market fast. Media Temple's Managed Services for AWS experts listened to our challenges and had our customized solution up and running in three business days." – Justin Zarr, General Manager at Rhino Group