Street Art Speaks in Crisis
Uncontroversial hot take: Creatives interact with the world by creating.
So, it's no wonder that creatives around the world have responded to the cluster bomb of 2020 with their artistic work. Data visualization, awareness campaigns, innovative storytelling – so much talent has been leveraged in grappling with the challenges of 2020.
While I've obsessively doom-scrolled through Twitter, I've also found the work of artists in the real, physical world to shift my mind from desolate despair. On the walls, pavement, and light poles of my downtown Los Angeles neighborhood, street artists have been frontline workers in shaping perception of the weird state of the world.
These responses to 2020's biggest moments should be a reminder that our creative endeavors are more than just reactions, they're a form of leadership.
How Street Art Responded to COVID-19
On March 14, coronavirus hadn't yet exploded in the United States. CNN reported just 2,816 cases across the country. But the pandemic had gotten its foothold, and the gravity of what was developing had become clear. Italy reported just as many new cases in only 24 hours. Two days earlier, the NBA season had been canceled.
And in my Los Angeles neighborhood, this appeared: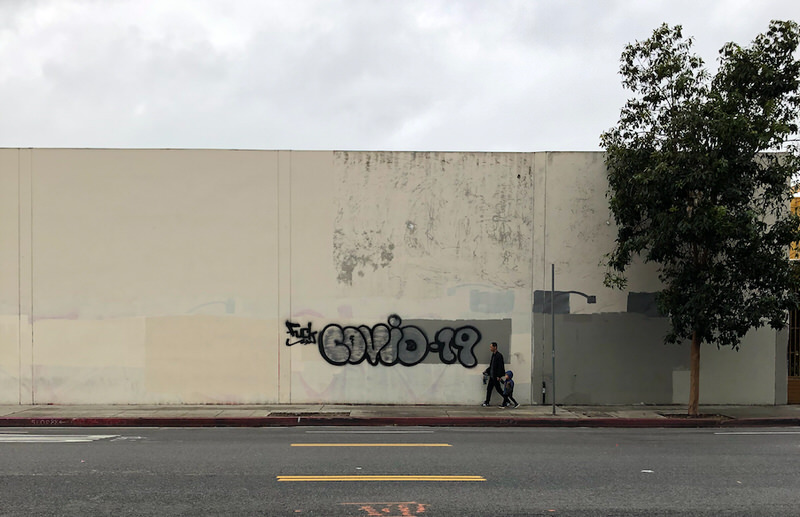 Quick, simple, uncomplicated, painted over the next day … But for me, this big "F you" to the novel coronavirus was one of the early signs that this virus was something to watch carefully.
We're social beings. When we see other people paying attention to something near us, we pay attention too. When we see a wall that says "f* COVID-19", we take a deeper look at it.
Days later, this little piece had popped up on a sidewalk … It wasn't specifically calling to current events, but the timing spoke volumes. With the dark cloud of a health crisis on the horizon, this stencil work felt like a breath of hope in the moment. It felt like the next step in the walls and sidewalks reacting to the human crisis around them.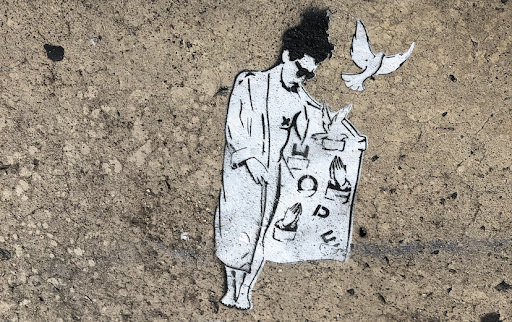 Sure enough, like panels in a comic strip, the trench-coated hope dealer reappeared with a more direct message on April 3.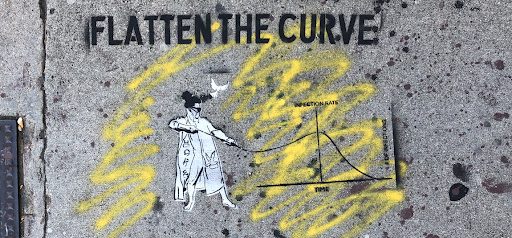 Of course, it's not the streets themselves making these statements, but the people throughout them. These two pieces are the work of Corie Mattie, who goes by LA Hope Dealer. Interviewed by our local ABC affiliate, she said of her stenciled works, "We're all in the same boat right now, but we're facing different storms. I want people to be able to see the Hope Dealer and be like, 'Alright, that is so motivating to me and inspiring me to keep going.'"
Street Art Responds to Big Moments in Unique Ways
Los Angeles is a street art town. While our architecture has been growing more adventurous in past decades, we still have a lot of big, flat, brick walls. Combine that with a world-class creativity quotient and when major events happen, artful Angelenos turn concrete and clay into canvas. As the city mourned the death of basketball legend Kobe Bryant and his daughter Gianna earlier this year, depictions of the two appeared seemingly on every street corner.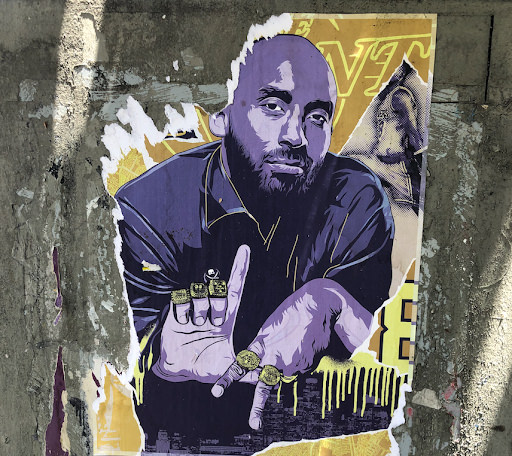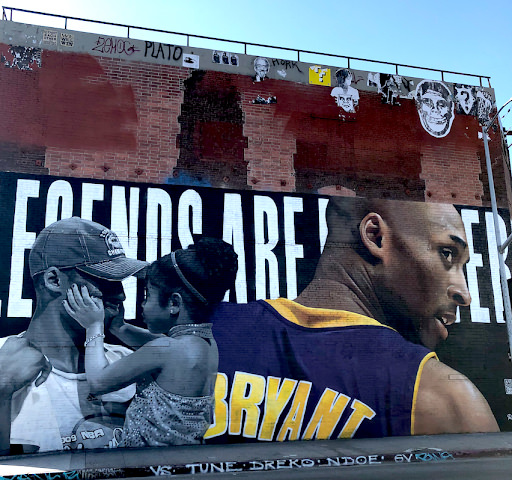 And the response isn't always one dimensional. The same day I'd spotted LA Hope Dealer's pieces, a chain-link fence had also been yarn bombed by street artist London Kaye.

New pandemic-focused art began popping up more frequently, especially wheat-paste pieces from the prolific Jeremy Novy and Little Ricky.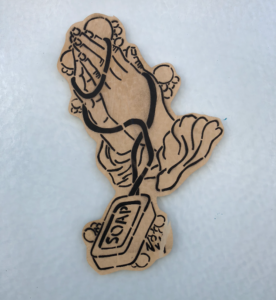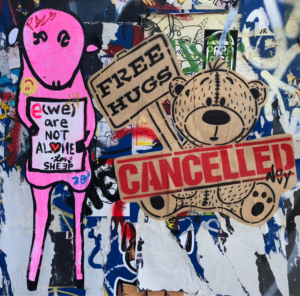 The "quarantine" of social distancing affected the neighborhood in more ways than motivating topical art in random locations, of course. Businesses were widely restricted in an effort to flatten the curve, and the neighborhood's weekend hotspots looked like ghost towns. Beyond simply locking their doors, a number of storefronts had even been boarded up.
To combat the desolation, street artists and shop owners alike chipped in their creative sentiment, pasting posters over plywood (like those from Dear Frontline), chalking feisty quips, or printing the Wu Tang Clan's mnemonic handiwork.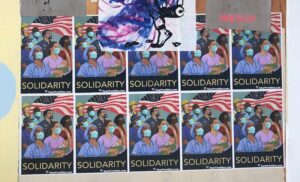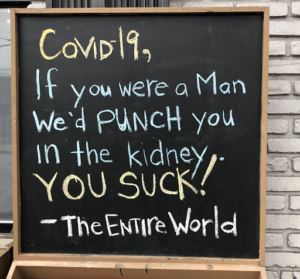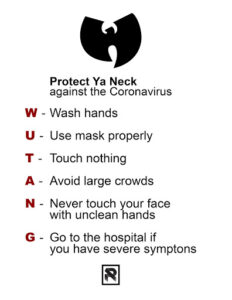 Artists have been affected personally by the pandemic, as well. Through its Let's Paint the Town effort, Art Share L.A. connects street artists with neighborhoods, adding color and personality to boarded up storefronts. One Saturday morning, the crew – including B-Luv, kar_part, Sara Sandoval, and others – put its mark on a stretch of shuttered businesses around the corner from its own building in the Arts District.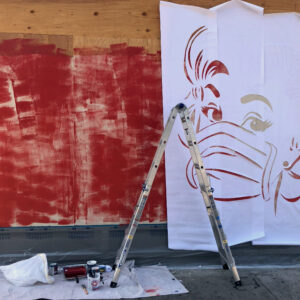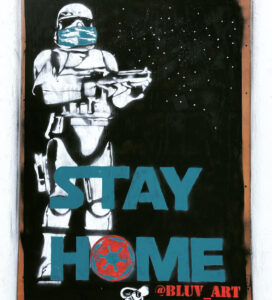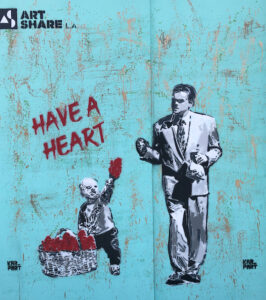 Street Art's Shift to the Faces of Black Lives Matter
Days later, the killing of George Floyd incited Black Live Matters protests around the country and throughout downtown Los Angeles. A wave of lootings hit some businesses, and caused even more businesses to board their windows in response. Compounded with the lingering pandemic shutdown, neighborhoods felt even further turtled up behind plywood.
It wasn't long until the barriers began to bear art in solidarity with the causes that had protestors on the street. Electric boxes, streetlight poles, patches of pavement, and even dumpsters expressed the moment visually.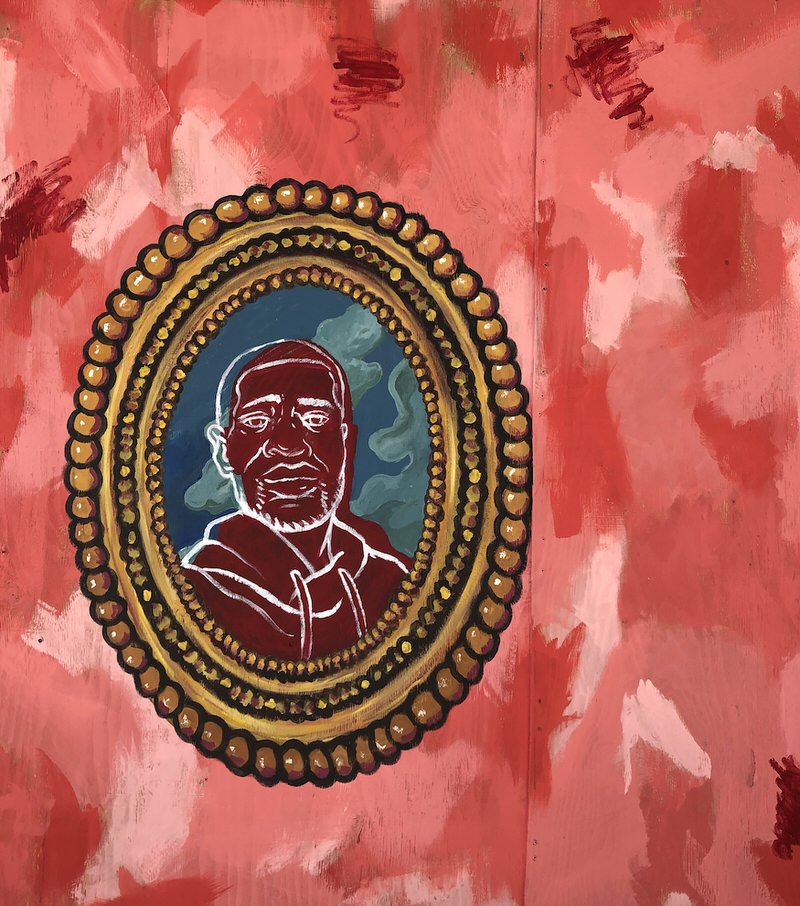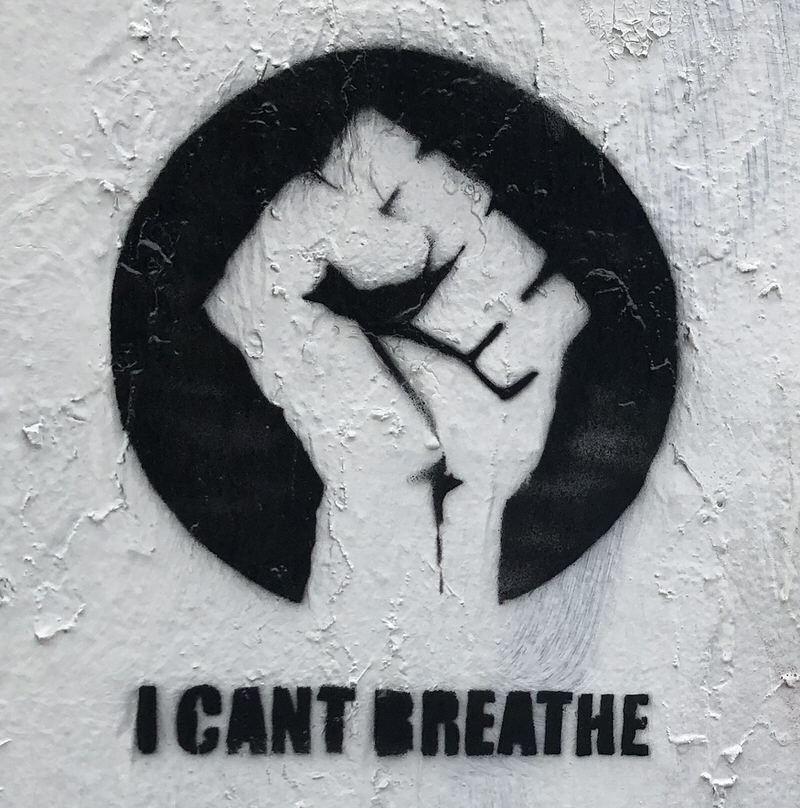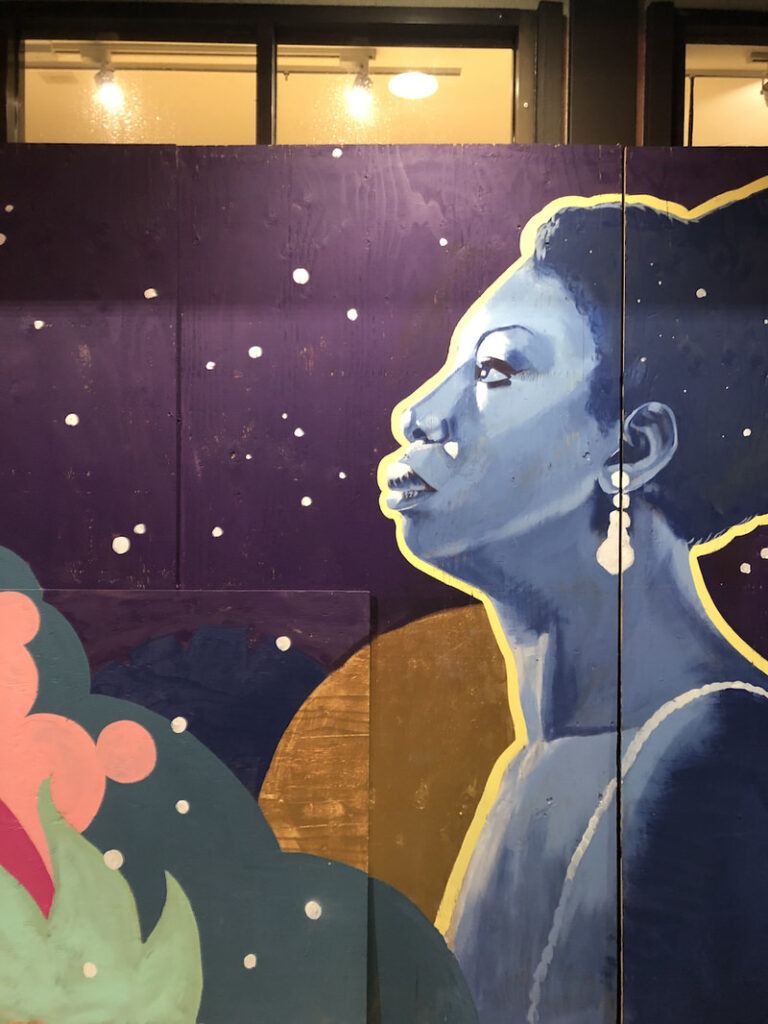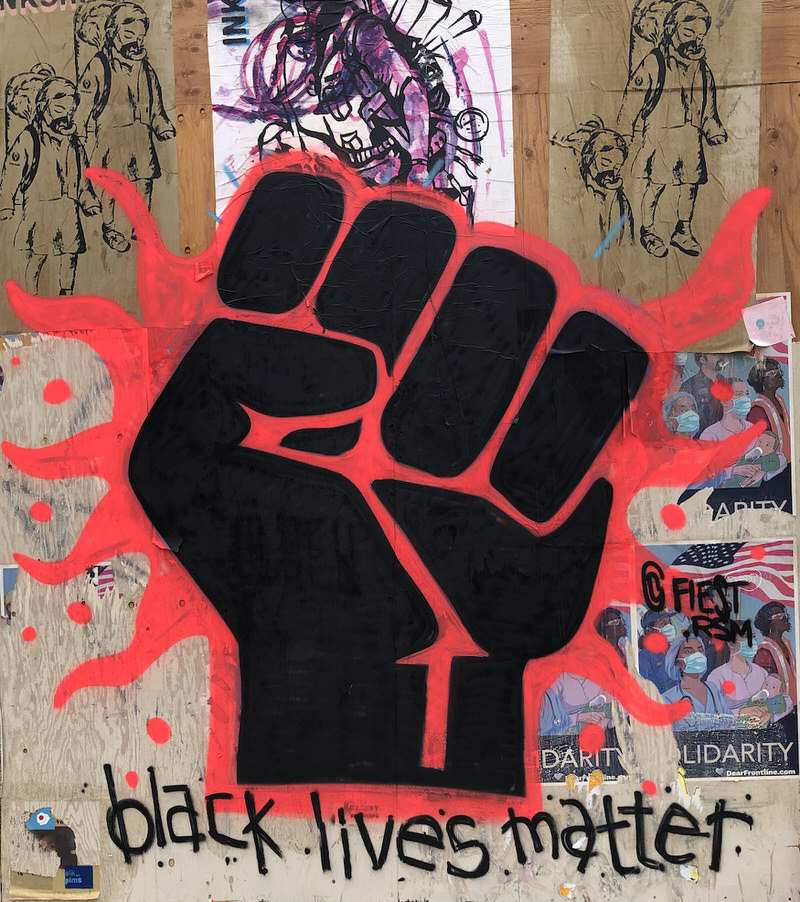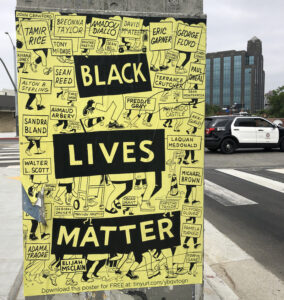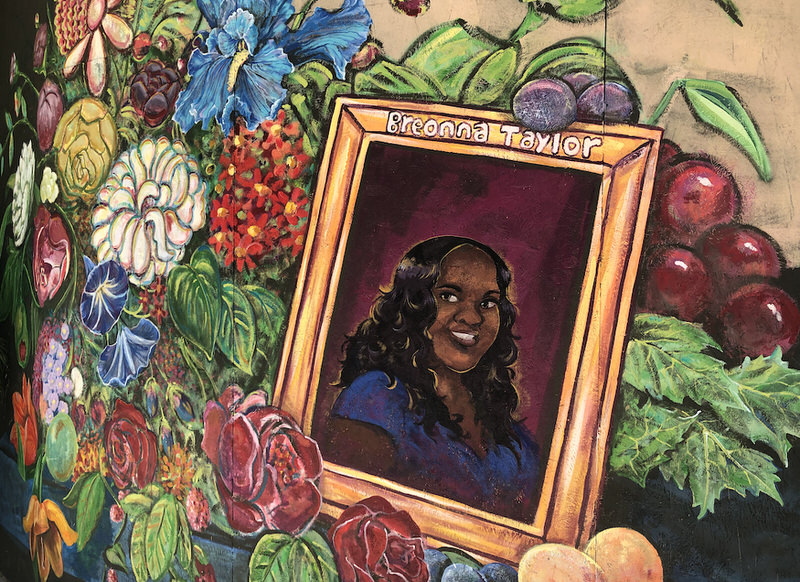 Among this wave of art were pieces by Shepard Fairey – an artist most famous for his stencil rendition of Andre the Giant and the Obama "HOPE" poster. (He's also a longtime Media Temple client.)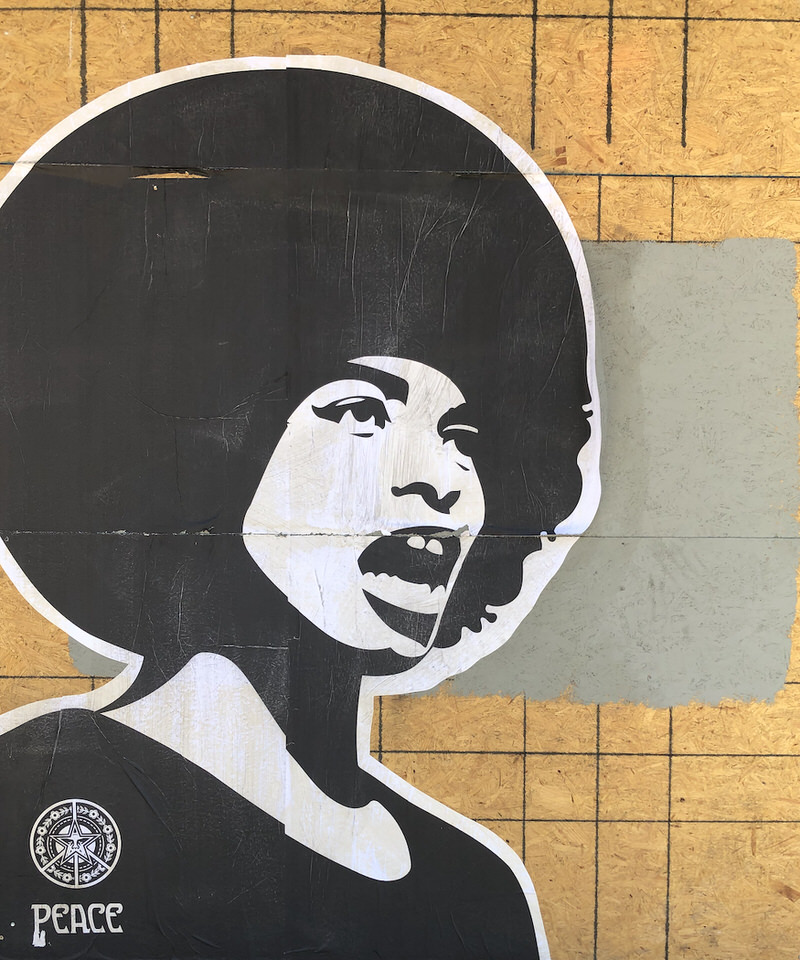 The Dialogue of Street Art
Like a pre-internet version of social media, Fairey's pieces and those of other street artists often appear together as if in conversation with each other. In active areas, work proliferates near, on top of, and over each other … until tagging or gray paint covers pieces, resetting the canvas. At that point, the process of filling a space begins anew, reflecting on the next moment.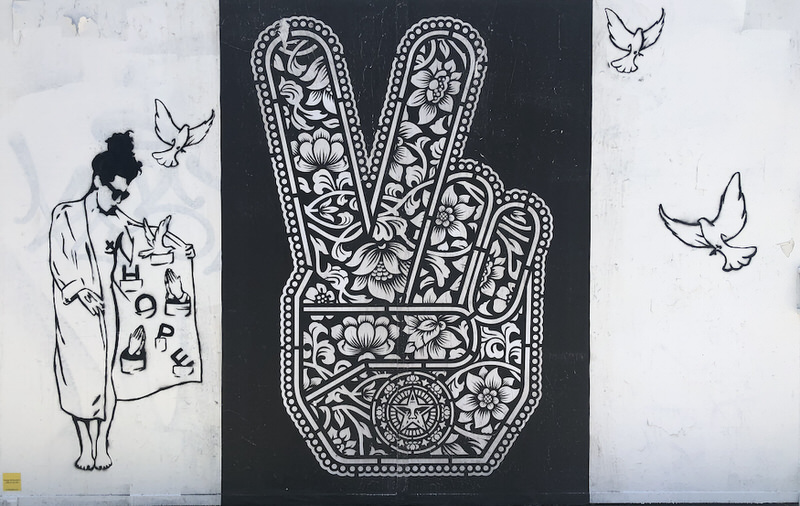 Fairey shares work with Amplifier, an organization that provides cause-related artwork that people can reproduce for use in their neighborhoods and events. Speaking with NPR's Goats and Soda earlier this year, Amplifier founder Aaron Huey said, "In times of uncertainty, art is more than beauty or decoration – it's a tool. Art can heal, art can save lives, art can bring us together – even when we're apart. It can be a compass to guide us through the storm."
In my neighborhood, Amplifier has also produced large-scale pieces, like this double-layered wheat paste mural by Tatyana Fazlalizadeh. In an interview with The Creative Independent from September of this year, Fazlalizadeh talked about the importance of having art like this exist in physical spaces, "But if you're walking down the street and you just come across one of these pieces, it confronts you in a way that's right there in real life with you. It's completely different than something that you just see when you're scrolling."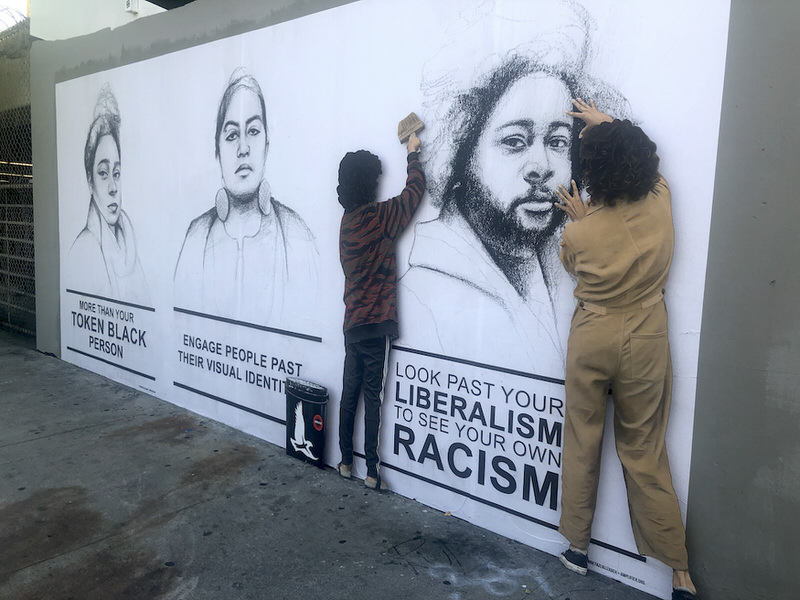 Projects like Amplifier merge the fast efficiencies of the digital world with the hands-on activism of the analog world. Often, social media and software suites shift our mindset to "digital first." But it's important to remember that our virtualized tools can be most impactful applied to human interaction and physical spaces. By utilizing web servers and near-instant global connection to aid physical transformations, we help make our world a better place instead of just building an alternate world.
Another Shift to A New Moment
As Black Lives Matter protests declined, COVID-themed street art continued to develop in ambitiousness and cleverness. For instance, London Kaye produced an elaborate, life-sized crochet piece of the Clueless girls donning masks. Many midsummer pieces shared this sense of playfulness in their serious message.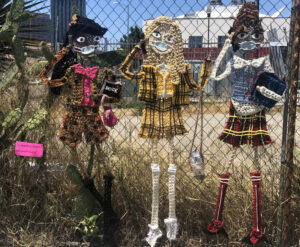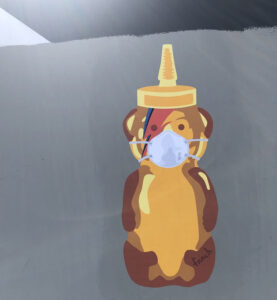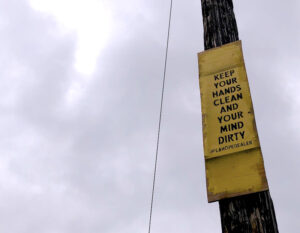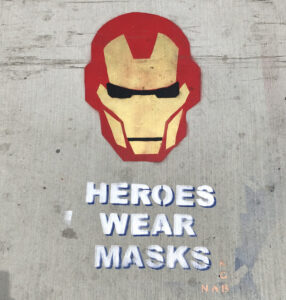 But as the calendar approached the U.S. elections, street art turned its focus to the core of democratic activity: voting. Pieces from many of the artists already mentioned – and many more – began popping up emphasizing a four-letter message. VOTE.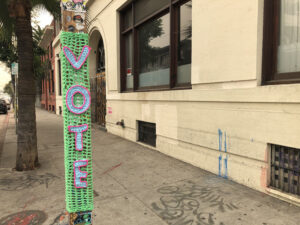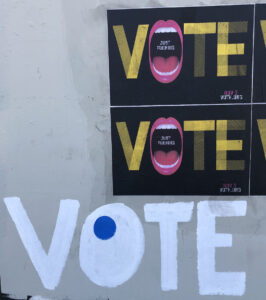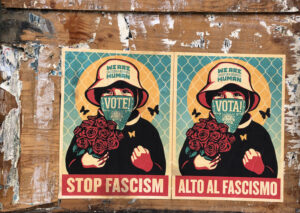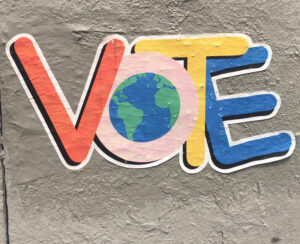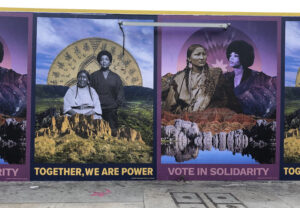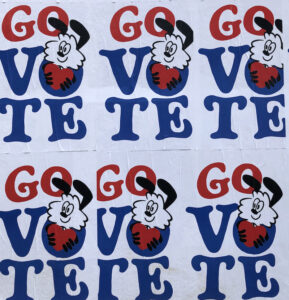 What Can We Learn from Street Art?
Digital and physical efforts should look to each other: As 21st century humans, we occupy both spaces – often simultaneously. One no longer exists without the other. So, the spirit of street art  should inspire those of us who consider our creative efforts "more digital."
When we face crises, it can be easy to fall into a vortex of cynical memes, hot takes, and flaming replies. By infusing downtrodden spaces – wherever they are – with empowering artistic expressions, though, we can both advance causes we believe in and infuse a sense of hope into our world(s).
In a 2016 interview with The Creative Independent, Shepard Fairey said this, "The great thing about art, in general, is that it can break through pre-dispositions by impacting people emotionally; then their intellectual side wants to justify their emotional response."
He concluded, "Images that can generate a conversation empower people to feel confident about their right to voice their opinion, which leads to a more meaningful understanding of how they can participate in Democracy and empower themselves."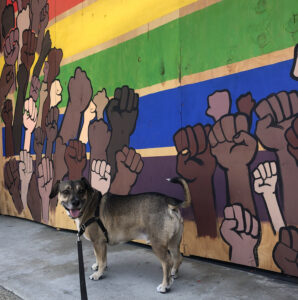 Interested in seeing street art from around the globe? Or sharing what you've found – or created – in your area? Databases are being assembled of both COVID-19 related art as well as George Floyd and anti-racist art.