Review – Adobe MAX Sneaks 2020
In this post, we're looking at this year's Adobe MAX Sneaks – a showcase of game-changing prototypes by Adobe's engineers. In the landscape of promotional brand events, Sneaks is unique and often jaw dropping. And it also often harbors fraught implications for professional designers and the world at large … So before jumping into this year's demos, let's consider the phenomenon of Sneaks itself.
What's the Big Deal with Adobe MAX Sneaks?
"I need you to photoshop the couch out, so that you can see my grandson. We just couldn't get him to come out from behind it."
Back in my photo-lab days, a customer insisted on us fulfilling that request. And I've joked about the impossibility of the task for years. But after attending my first Adobe MAX Sneaks a few years ago, I started wondering if maybe we aren't that far away from being able to complete the task. And with a single click, no less.
One of the tentpole sessions of Adobe MAX, Sneaks provides a transparent look into mind-bending prototypes for its Creative Cloud. Over the years, Adobe MAX Sneaks has revealed technologies that can remove objects from on-the-move video, render new artwork in the style of old masters, and many more acts of seemingly pure wizardry. These particular features aren't necessarily coming to Adobe applications anytime soon, but they offer a window into how Adobe engineers are pushing their software to previously unimaginable levels.
It has been one of the most simultaneously marvelous and – inadvertently – frightening displays of technology for designers and media creatives.
Sneaks Has Changed, And That's a Good Thing
For users, Sneaks is mostly about having fun with technology – and seeing the potential streamlining of difficult manual tasks. Often, it's something like having Gandalf show up in your office and showing how he can complete your mortal tasks with one tap of his staff. The magic of it all definitely impresses.
For Adobe, Sneaks exists primarily to boost the brand and gauge user interest, while also acting as one of its most visible promotions of Adobe Sensei. This AI and machine-learning technology holds millions of creative assets in its hivemind and can process the structural similarities of them, allowing Creative Cloud engineers to establish otherwise invisible context for individual images, video, and sound. With that context, Adobe engineers can do otherwise impossible things.
And that's where Sneaks can get unsettling.
The Democratization of Deepfakes
The flashiest Sensei-based projects also hold the most troublesome undercurrents.
In 2016, the Sneaks project #VoCo generated audio of director Jordan Peele saying things he's never said using a 20-second audio clip – simply by typing a few words. And in 2017, #ProjectCloak took a video of a couple walking through a canyon and simply vanished the people from the panning clip. Awesome stuff, but … In an era when truth constantly gets drawn into question, imagine how projects like these could be abused.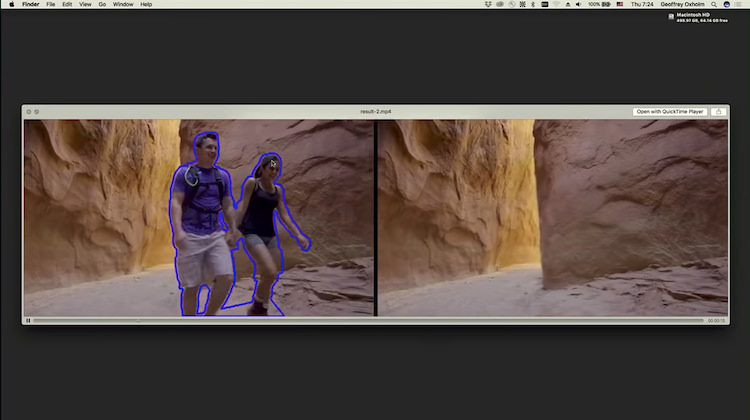 Aside from trust concerns, Adobe MAX Sneaks also frequently have implications for the legal and ethical limits of intellectual property – as in the case of projects that alter assets to match other artists' unique styles. And there's always the dark cloud of machines replacing humans that's inherent to automated technologies.
A few weeks after guest-hosting the 2017 Sneaks session, actor/comedian Kumail Nanjiani posted a now-deleted Twitter thread about his experiences watching tech demos.
"We are realizing that ZERO consideration seems to be given to the ethical implications of tech," he wrote. "Only 'Can we do this?' Never 'should we do this?' We've seen that same blasé attitude in how Twitter or Facebook deal w abuse/fake news. You can't put this stuff back in the box. Once it's out there, it's out there. And there are no guardians. It's terrifying."
It's true that unethical manipulations are already created manually. And there's a many-headed hydra of companies beyond Adobe exploring concepts that allow them to be completed automatically. But it's not comforting to see a major player accelerate the virus without also developing an antidote.
An About Face
In recent years, Adobe seems to have grown more sensitive about its role in the more fraught areas of technological advancement. Last year, it launched the Content Authenticity Initiative – developing a provenance system that acts as some level of antidote to the trust and legal implications. 2019's Sneaks session also featured #ProjectAboutFace, a tool that detects manipulation of faces in photos. Adobe showed that it took the public's concerns about its technologies seriously and that it was shifting to a more reserved approach – at least publicly.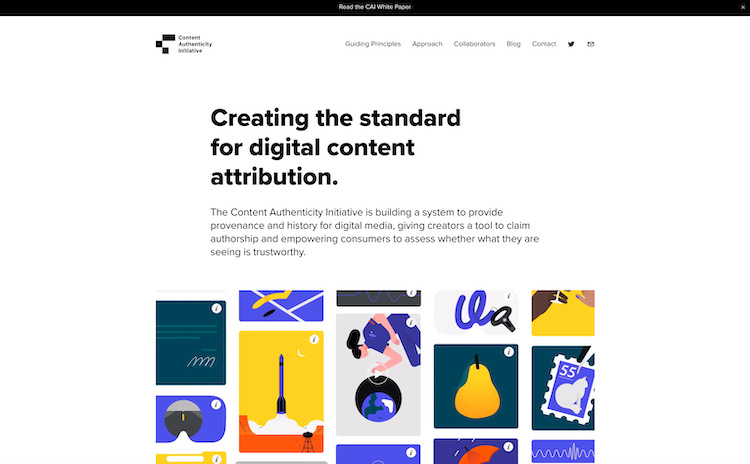 In 2020, both sides of these issues were tempered to a point of being practically invisible. While that means this latest edition was less flashy than its predecessors, Adobe still showcased some intriguing experiments that creatives should pay attention to. Sensei still does some supernatural work, even if it's not ripping down reality.
The 2020 Adobe MAX Sneaks Projects
Here are the presentations I found most noteworthy from this year's showcase.
Most Game-Changing: In Sync
Seamless integration of design, copy, and code is the holy grail of UX development. The agile nature of UX projects almost inherently pushes the three legs of the UX table out of sync, creating frustrations across the workflow. In Sync integrates Adobe's experience design software XD with code in development, allowing designers and content strategists to adjust designs and have those changes update directly into the development side. If this can work at scale in the wild, it'd be massive.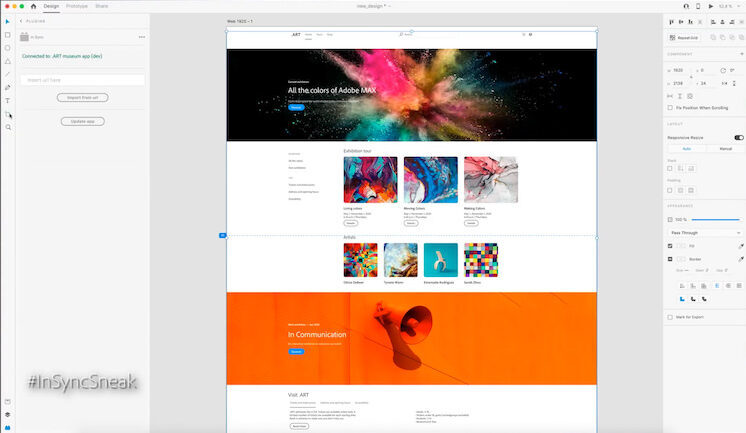 Starting from a comic-book script, Comic Blast automatically generates its page layouts: frames, speech bubbles, even placing art. These layouts can be responsively adjusted with interactive and motion elements added, too. Negative responses erupted from the community of comics creators almost instantly – critical of the app's quality, its imprecise output, and seeming intention to replace skilled craftspeople. With Sneaks, Adobe walks a thin line: It wants to demonstrate the experiments as tangible and within-grasp, but they're largely in early stages. Adobe's messaging of Comic Blast likely fell too far into positioning it as a finished "pro" product, and saw the effort backfire.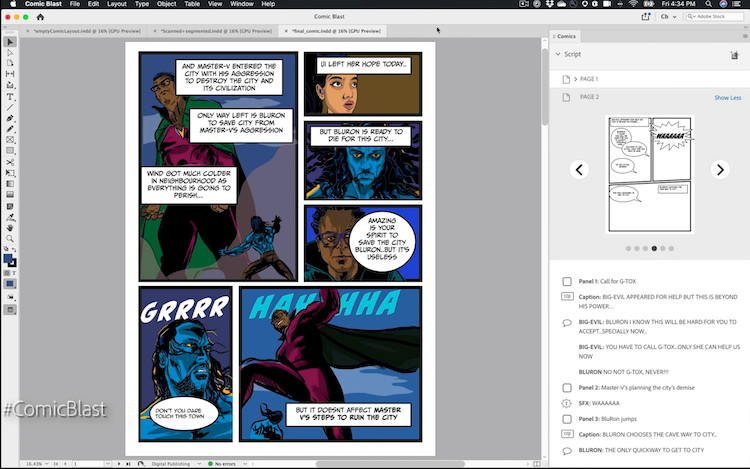 Most Ready to Ship: 2D Plus
This project takes 2D vector objects and applies 3D principles and effects to them. The presentation groups of illustrated houses, automatically moving and resizing them with perspective rules along a path. Basic lighting effects can be added from there, including shadows that cast onto nearby houses. This is a practical, intuitive application that lets illustrators and designers make revisions without having to dismantle a nest of shapes and layers. If it works, ship it.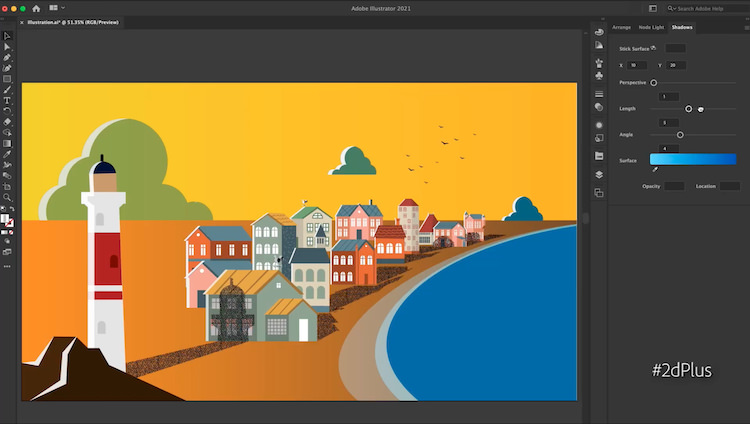 Augmented reality and virtual reality hold a ton of promise, but still have some big gaps that prevent widespread adoption. Scantastic could open up the AR field. Using a cell phone, you can create a 3D scan of an object and generate an accurate, textured model for use in Adobe Dimension. Tools like this feel like they'll be essential for AR to catch on, both by allowing faster experimentation for scrappy agencies and making the technologies more feasible for clients to maintain and update AR-ready product catalogs.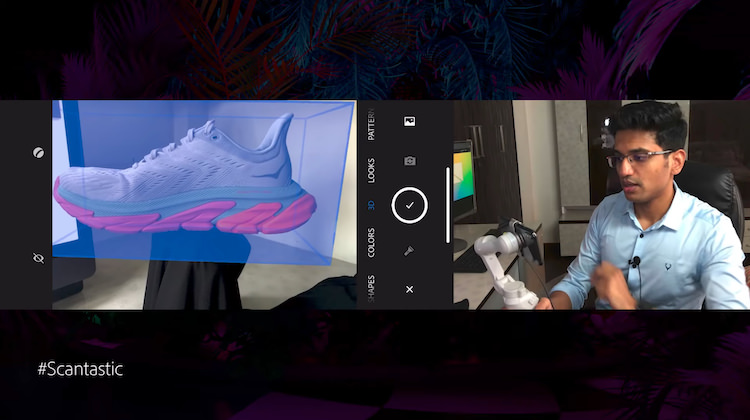 The Rest
Every project demonstrated had some wow factor, so be sure to check out all ten Sneaks demonstrations on Adobe Labs or Adobe's YouTube channel. What project most catches your attention? Are you more a Typographic Brushes or Sharp Shots fan? Let us know on Twitter.